Apple officially rolls out Joint Venture for businesses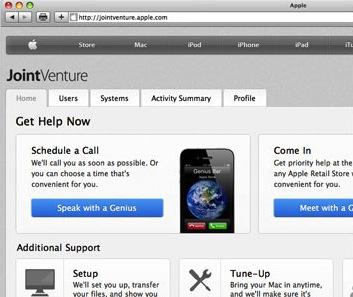 Apple has officially launched its $499 a year Joint Venture support initiative for small businesses under the tagline "Get set up. Get trained. Stay running."
Apple's Joint Venture retail support plan offers setup, training and continued support starting at $499 a year for up to five "systems," which are defined not just as Macs, but also iOS devices or Cinema Displays. According to the terms and conditions set by Apple, the service is only available to business customers at the time of purchase of a Mac.
The new support plan is inline with details leaked to AppleInsider earlier this week after Apple held a secretive all-hands meeting to announce the initiative to retail employees.
After a business joins the service, Apple Genius technicians will begin by setting up the newly purchased Mac, transferring existing data from a PC or Mac and installing software purchased from the Apple Retail Store or Apple Online Store. Joint Venture members will gain access to a personalized support website that they can use to schedule trainings and request technical support.
Businesses can schedule up to three two-hour training sessions at an Apple retail store, as well as send employees to attend monthly group workshops from Apple.
In order to help businesses "stay running," the Cupertino, Calif., Mac maker will offer Genius phone support to qualifying members for the first time ever. Members will also receive priority when making Genius Bar appointments.
Joint Venture will provide members with "anytime updates," including system diagnostics, software updates and keyboard and display cleanings, from its support staff. Apple will also offer loaner MacBook Pro or MacBook Air systems preloaded with iWork, iLife and Microsoft Office to members while their Macs are being worked on.
However, it does not appear that the service will include on-site support visits from Apple Genius technicians, as early rumors had suggested.