Apple shows continued interest in shrinking audio jacks to create thinner devices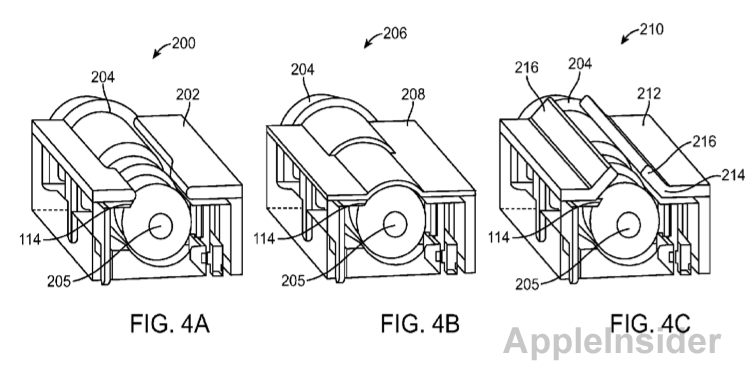 Apple's quest to make electronic devices even smaller and thinner continues to be challenged by the size of a standard 3.5mm audio jack, prompting the device maker to explore new methods to shrink the input's footprint, including collapsible ports.
A new patent application from Apple was made public this week by the U.S. Patent and Trademark Office entitled "Low Profile Plug Receptacle." Discovered by AppleInsider, the proposed invention details ways in which devices could accommodate standard-sized headphone plugs while shrinking even further in size.
Apple notes that a standard port for a 3.5mm audio plug must have a thickness that is greater than that, in order to accommodate a plug for an external set of speakers or headphones. In addition to the port, the thickness of the device's housing, like an iPod or iPhone, must be taken into account, and appropriate clearance must be made available for the plug to slide into the device.
"As electronic devices get thinner, the diameter of the audio plug, and corresponding receptacle, have been found to be limiting factors in the reduction of device thickness," the application reads. "While it is possible to develop plugs that are thinner than either the 3.5mm miniature or 2.5mm subminiature audio plugs that could be used with a correspondingly thinner receptacle, smaller connectors are not backward compatible and need to use an adapter for larger jacks."
To resolve this issue, Apple has proposed a number of methods for making audio jacks smaller while still accommodating standard size plugs. One method would use a "flexible housing" that would expand when a 3.5mm plug is inserted into the device. Using a plastic housing, the side of the device would bulge outward to allow a plug to fit.
Other methods could rely on hinges that would extend outward when a set of headphones are plugged in. While the side of the device would be flat when nothing is plugged in, they would pop outward slightly to contain an audio plug when it is inserted.
In another example, the hinges could be ditched entirely, leaving an exposed slit along the side of the device. An audio plug would slightly protrude outward from the device when inserted, as its 3.5mm cylindrical diameter would be thicker than the iPhone, iPad, iPod or other super-thin device.
Disclosed this week by the USPTO, the application was first filed on Nov. 10, 2010. The proposed invention is credited to Stephen Brian Lynch and Anthony Sagala Montevirgen.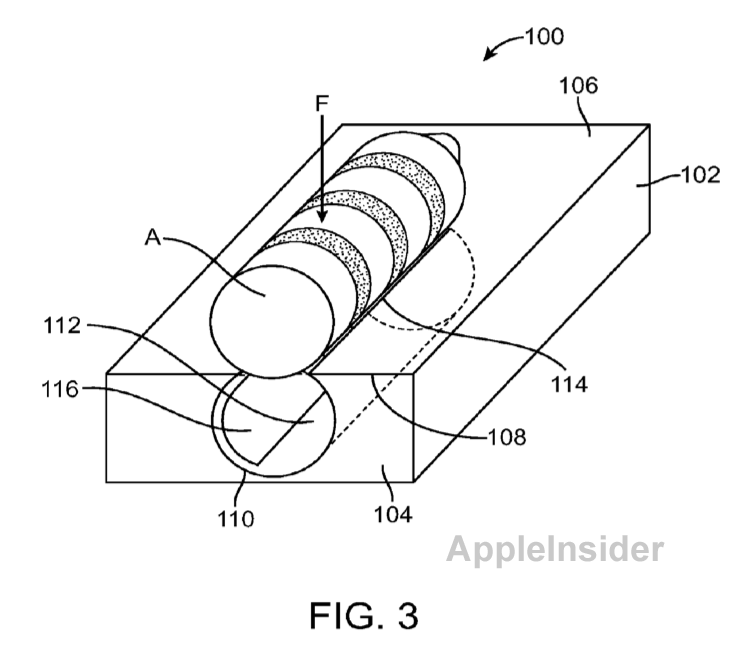 Last September, AppleInsider discovered a separate patent application that would use different methods to shrink audio jacks on portable devices like an iPod. That proposed invention would rely on Pogo pins with conductive contacts, replacing cantilever beams that can take up a large amount of space in current audio jacks.
Apple continually strives to make its devices thinner, smaller and lighter, as evidenced by Friday's release of the new iPad 2, with the tablet a third thinner than its predecessor, and thinner than the iPhone 4. Last September, the company also released a redesigned iPod nano that isn't much thicker than its built-in 3.5mm audio jack.