iPad 2 line wraps around the block in downtown San Francisco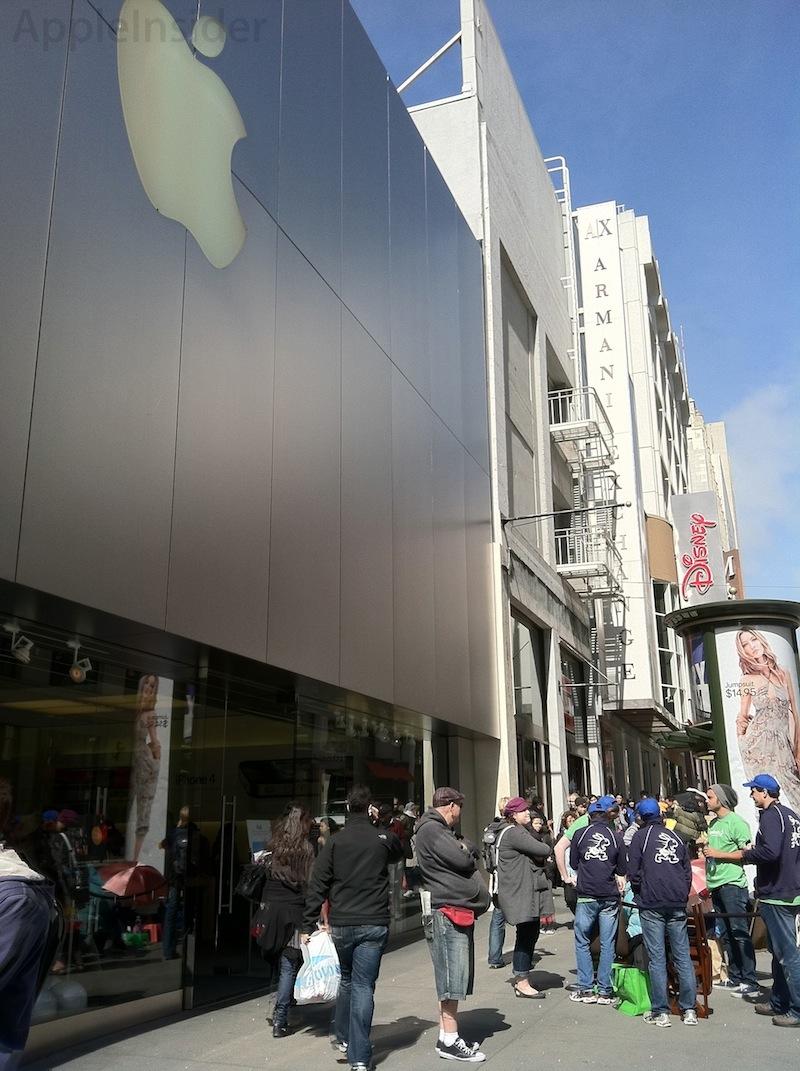 AppleInsider may earn an affiliate commission on purchases made through links on our site.
Apple's flagship retail store in downtown San Francisco had already staged a line of more than 140 people before noon today, in anticipation of the iPad 2 launch beginning this evening at 5 PM.
Unlike New York on the East Coast, San Francisco offered clear skies to those waiting in line, many of whom were camped out with chairs and picnic snacks.
For those who forgot to bring food, Apple retail staffers serviced the line with carts offering fruit, chips, granola bars and bottles of water. One enthusiastic shopper waited for iPad 2 while staying busy with his iPhone, MacBook Air, and last year's iPad.
A series of barricades kept sidewalks open while routing the line down block and around the corner. In another five hours, the line is likely to reach around to far side of the oversized block, the same place the iPhone 4 line reached shortly before it went on sale last summer.
Apple's iPad 2 line is likely to move a lot faster however, as the WiFi models requires no mobile service agreement, and even the 3G versions can be set up by the user at home, as they don't involve a contract or subsidy.
Initial online demand appears to delayed online orders to ship in two to three weeks, something which may encourage early adopters to show up for the launch event at Apple's retail stores, helping to generate the dramatic lines that stir media frenzy and generate free publicity.
Last month, when Verizon added support for iPhone 4, critics smirked that the lines the nearly year old phone generated were "laughably short," suggesting that Verizon's thousands of stores should each have generated the same long lines that Apple's couple hundred outlets did when the phone was new.
However, iPad 2 will also be sold at both AT&T and Verizon retail stores, as well as Best Buy, Target, WalMart and some authorized Apple resellers, on the same launch day. That indicates that those waiting at Apple Stores may be there mostly just for fun.
At the same time, Apple will likely offer the the best selection of models at its own stores, a factor that may be important to buyers who have a specific model and color in mind out of the 18 different versions of iPad 2 that Apple is now offering: two colors, three capacities, and three wireless versions (WiFi, 3G CDMA on Verizon and 3G UMTS for AT&T).
Appe's iPad 2 will launch in Australia, Austria, Belgium, Canada, Czech Republic, Denmark, Finland, France, Germany, Greece, Hungary, Iceland, Ireland, Italy, Japan, Luxembourg, Mexico, Netherlands, New Zealand, Norway, Poland, Portugal, Spain, Sweden, Switzerland and the UK on March 25, and in additional countries around the world in the coming months. Further international availability and pricing will be announced by Apple at a later date, contingent upon regulatory approval.