Japanese disaster could leave Apple with shortage of five key iPad 2 components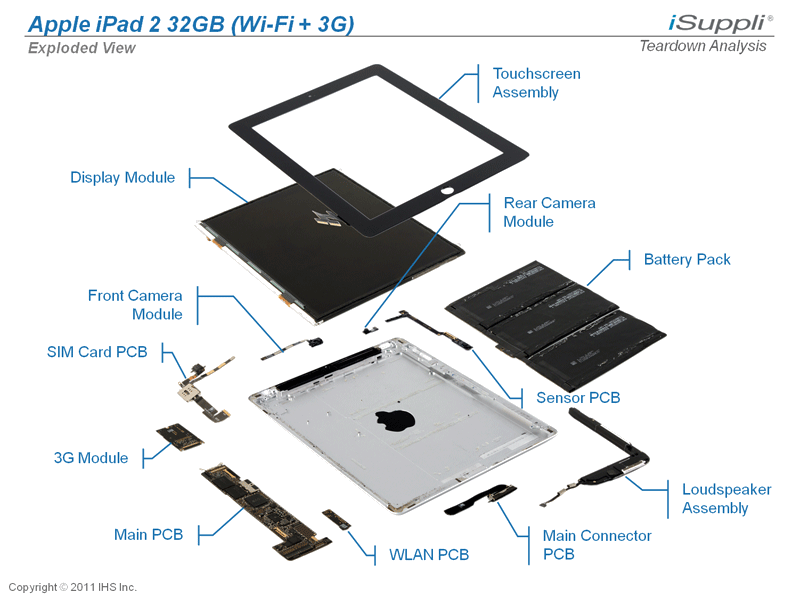 AppleInsider may earn an affiliate commission on purchases made through links on our site.
Investment and research firms this week continue with their efforts to quantify the effect the recent Japanese earthquake will have on Apple and its capacity to manufacture its top-selling products, with the latest report identifying five core iPad 2 components likely sourced from the region.
In particular, iSuppli is reporting that its teardown analysis of the iPad 2 so far has been able to identify the following parts sourced from Japanese suppliers:
NAND flash from Toshiba Corp.;
dynamic random access memory (DRAM) made by Elpida Memory Inc.;
an electronic compass from AKM Semiconductor;
the touch screen overlay glass likely from Asahi Glass Co;
and the system battery from Apple Japan Inc.
"While some of these suppliers reported that their facilities were undamaged, delivery of components from all of these companies is likely to be impacted at least to some degree by logistical issues now plaguing most Japanese industries in the quake zone," said iSuppli's analyst Andrew Rassweiler.
More specifically, Rassweiler said that suppliers are expected to encounter difficulties in obtaining raw materials supplied and distributed as well as in shipping out products. They also are facing difficulties with employee absences because of problems with the transportation system, he added.
Such challenges are reportedly being compounded by interruptions in the electricity supply, which could have a major impact on delicate processes, such as semiconductor lithography. In addition, semiconductor facilities in Japan that had suspended manufacturing activities following the quake "cannot truly commence full production again until the aftershocks cease," according to the report.
"Earthquakes ranging from 4 to 7 on the Richter scale will make it impossible to really restart these fabs until the earthquakes stop happening with such frequency," said Dale Ford of IHS. "Every time a quake tops 5, the equipment automatically shuts down."
While Apple multi-sources both the NAND flash and DRAM components from multiple suppliers, which should help the company mitigate the effect of shutdowns at Toshiba and Elpida, it's the other three components that could pose the most trouble for the iPad maker in the short term.
According to Rassweiler, the compass and glass supply could prove to be more problematic for Apple. He said that even though AKM said its fab that produces the electronic compass used in the iPad 2 was undamaged by the quake, the company's shipments are likely to be impacted by the same logistical issues that will plague all Japanese industries during the short term.
Similarly, while compasses are available from other sources including Yamaha, Aichi Steel, Alps and STMicroelectronics, those components are reportedly not easily replaceable.
"The calibration of electronic compasses is tricky for a number of reasons," said Jérémie Bouchaud, director and principal analyst for MEMS and sensors at IHS. "Compasses are sensitive to electromagnetic interference. Furthermore, the iPad 2's compass works in close coordination with the tablet's accelerometer and gyroscope. This makes it impossible to simply replace one manufacturer's compass with another."
Meanwhile, Apple's supplier of glass used in the iPad 2's touch screen overlay cannot be confirmed with certainty, leading iSuppli to speculate that Asahi Glass of Japan — which reported damage to three of its Japanese facilities — is indeed that supplier given the concurrent release of the iPad 2 and the glass maker's new Dragontrail Glass technology. Rassweiler notes that his firm's proprietary tests found the iPad 2 glass is more flexible and durable than the glass used in the iPad 1, further indicating that the glass is Asahi's Dragontrail.
Finally, the analyst said that while the iPad 2's three-cell battery pack is labeled "assembled in China," this label refers to the whole battery pack and further investigation showed the battery itself was made by Apple Japan, which operates as a subsidiary of Apple.
"Typically, battery cells are made at the site of assembly but because the iPad 2's lithium-ion polymer battery is unusually thin, it likely requires advanced battery cell manufacturing technologies that reside in Japan," said Wayne Lam, senior analyst, competitive analysis, at IHS.
The potential component supply issues arrive just as Apple is attempting to crank up production of the iPad 2, introduced just days before the Japanese disaster struck. A similar report from earlier this week suggested the matter could see Apple face shortages of both its iPad 2 and iPhone 4 throughout March and into the June quarter.