RIM's iPad-competing BlackBerry PlayBook will launch for $499 on April 19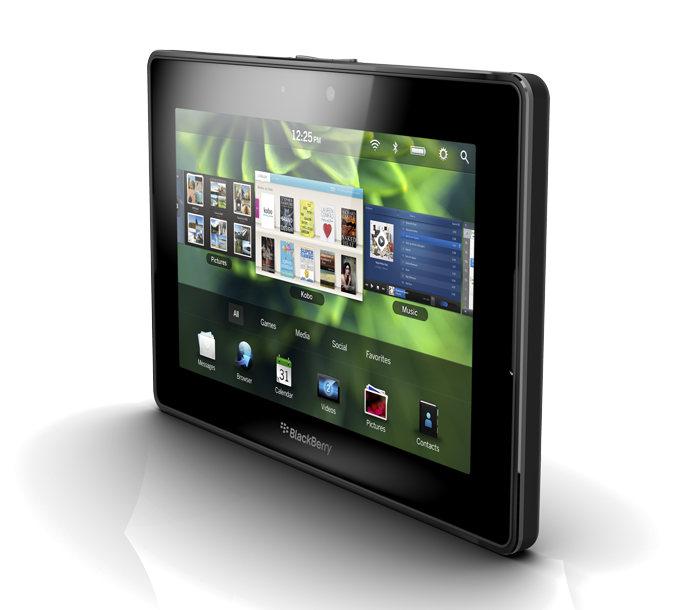 AppleInsider is supported by its audience and may earn commission as an Amazon Associate and affiliate partner on qualifying purchases. These affiliate partnerships do not influence our editorial content.
Research in Motion on Tuesday announced the details for the launch of its BlackBerry PlayBook 7-inch touchscreen tablet, set to arrive on April 19 for a $499 starting price that matches Apple's iPad.
The BlackBerry PlayBook with Wi-Fi will be available starting in a 16GB capacity for $499, the same as the Wi-Fi-only iPad. However, the PlayBook will sport a smaller 7-inch touchscreen display, compared to the 9.7-inch screen found on the iPad.
The remaining PlayBook prices will also match Apple's pricing for the Wi-Fi-only iPad lineup, at $599 for 32GB of storage, and $699 for 64GB. The device will be available at all Best Buy stores in the U.S. and Best Buy and Future Shop stores in Canada on April 19.
As "preferred retailers," both companies will begin accepting preorders for the PlayBook starting Tuesday.
Additional retail outlets in the U.S. will include AT&T, Office Depot, RadioShack, Staples, Sprint and Verizon. In all, the PlayBook will be available in over 20,000 retail outlets in the U.S. and Canada at launch.
"The BlackBerry PlayBook is an amazing tablet that is already being widely praised as a multi-tasking powerhouse with an uncompromised web experience and an ultra-portable design," said Mike Lazaridis, president & co-CEO of RIM. "Given the high level of customer interest in the BlackBerry PlayBook, we are particularly pleased to be working with such an amazing lineup of retail partners."
Official specifications for the RIM PlayBook are:
7" 1024x600 WSVGA capacitive LCD touch screen
Ultra-portable at less than a pound and less than one-half inch thick: 0.9 lbs (425g) and 5.1" x 7.6" x 0.4" (130mm x 194mm x 10mm)
1 GHz dual-core processor
BlackBerry Tablet OS with support for symmetric multiprocessing
MP3, AAC and WMA audio playback
Support for high resolution video playback (H.264, MPEG4, WMV)
1080p HDMI output
Dual 1080p HD cameras for video conferencing and video capture (3MP front and 5MP rear)
1 GB RAM memory
Up to 64 GB internal storage (16, 32 and 64 GB models)
GPS, Orientation Sensor (Accelerometer), 6-Axis Motion Sensor (Gyroscope), Digital Compass (Magnetometer)
Stereo speakers and stereo microphones
Wi-Fi (802.11 a/b/g/n) connectivity
Bluetooth 2.1+EDR support
The PlayBook and tablets like it were called out by Apple Chief Executive Steve Jobs last year, when he slammed devices with a 7-inch screen as inadequate for most users. Jobs even quipped that makers of tablets with smaller form factors would need to ship sandpaper with their devices, so users could file down their fingers to the point where they could hit smaller targets on the screen.
RIM co-CEO Jim Balsillie quickly fired back at Jobs, and said he believes customers are "getting tired of what to be told to think by Apple." He also said any issues with a 7-inch tablet display only exist inside of "Apple's distortion field."
The smaller display of the PlayBook does allow it to be even lighter than the newly released iPad 2. And RIM's tablet also has higher-quality dual cameras and twice the RAM of the iPad 2.
RIM is pitching the PlayBook as the "world's first professional-grade tablet." Its debut will come more than a month after Apple's iPad 2 went on sale and faced overwhelming demand, with many users still waiting to get their hands on the device. The international launch of the iPad 2 will go on as planned on March 25.