Samsung announces new Galaxy Tab models with iPad prices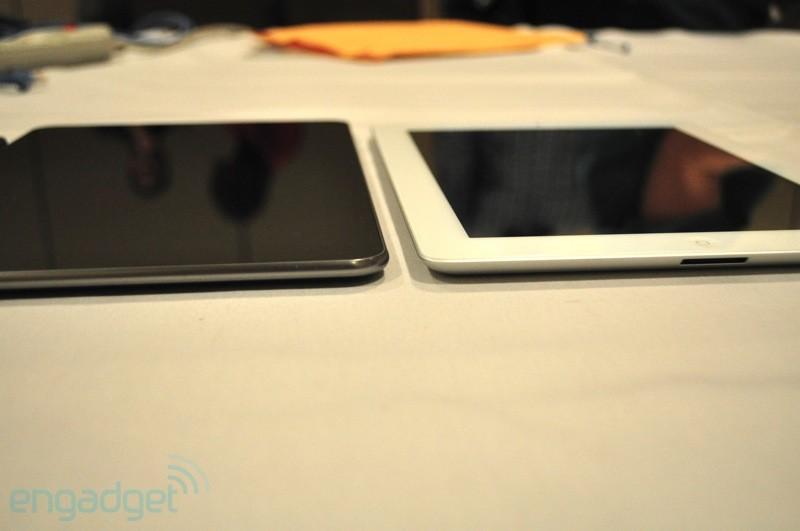 AppleInsider may earn an affiliate commission on purchases made through links on our site.
Samsung has ditched the boxy new 10.1 inch Galaxy Tab it debuted just a month ago to announce a new model that is as thin and light as Apple iPad 2 and priced the same, targeted for an early June launch.
As light, thin, cheap and fast as iPad, in two months
Samsung showed off a new but not yet functioning 10.1 inch Galaxy Tab with a case just .33 inches or 8.6 mm thick (iPad 2 is .34 inches thick, a difference of a quarter of a millimeter) and reportedly weighing 1.31 pounds or 595 grams (iPad 2 is 1.33 lbs or 600 grams), after describing its original 2011 tablet products at Februarys' Mobile World Congress as "inadequate" compared to iPad 2.
Also like Apple's currently shipping iPad 2 is Samsung's use of a 1Ghz dual core CPU, which Engadget speculated to be an NVIDIA Tegra 2, despite the fact that Samsung builds its own Hummingbird application processors like the one used in its existing 7 inch Galaxy Tab.
Samsung also fabricates Apple's A5 used in the iPad 2, but does not design that chip nor does it have rights to use it. Samsung's previous Hummingbird is similar but not identical to Apple's A4, indicating that it may likely be building its own equivalent to the A5. However, Google's initial support for NVIDIA's Tegra 2 in Android 3.0 Honeycomb could conceivably push Samsung to use another manufacturer's chips in order to get the product to market quickly.
The new 10.1 inch model will be joined by a 8.9 inch version. Samsung says the larger model will start at $499 for the 16GB version and $599 for the 32GB model (both WiFi-only), while the smaller version will start at $469 and $569 for the same capacities, respectively.
Runs Honeycomb like Motorola Xoom
Motorola disappointed Android enthusiasts hoping for an affordable Honeycomb tablet by pricing its 10.1 inch Xoom at $800, and only bringing prices down towards the iPad after launch. Like the Xoom, Samsung's new tablets ignore the 7 inch tablet market that failed to materialize last fall, just as Apple's chief executive Steve Jobs had predicted.
Samsung will also add a layer of its own differentiated software on top of Google's Android 3.0 Honeycomb, setting the new tablets apart from similar offerings from Motorola and Toshiba. Like those other Honeycomb tablets however, Samsung will use a 16:9 aspect ratio and a 1280x800 resolution, making it more suited to movie playback rather than aimed at general handheld computing like Apple's iPad.
Other differences from iPad include a build in microSD slot and marginally better front and rear cameras with an LED flash, although they're still not adequate for taking photos at just 2 to 3 megapixels each.
There's also a number of things Samsung isn't copying from Apple. The company has no retail presence, relying upon big box retailers to sell its Galaxy Tab, something that didn't work well last fall. It also isn't developing its own platform or software store, delegating that task to Google.
And notably, Samsung isn't developing its own apps, as Apple did last year in releasing Pages, Keynote and Numbers, and this year in releasing Photo Booth, FaceTime, iMovie and GarageBand for its latest iPad. There is currently only a small sampling of apps optimized for Android 3.0, providing much less general functionality for tablets that run it. So far, non-iPad tablet sales have been unremarkable, which has done little to stoke enthusiastic commercial development outside of Apple's App Store.
Samsung will be adding its own "Social Hub" layer of software on Android 3.0 Honeycomb, which "will aggregate email, instant messaging, contacts, calendar and social network connections into a single interface," something that is likely to replace rather than encourage third party development.
Android has had problems attracting real development to its existing smartphone platform, despite having a large installed base that is comparable in size to Apple's iPhone. In part, this is due to mistakes Google has made in running its Android Market, something Amazon hopes to correct with its own online store for Android apps.
But fractionalization of Android OS releases, which rarely make their way to handset users within less than 3 to 6 months after they are finished and are often never released for some phones, are also a problem for Android software developers. Most Android smartphone users are still using Android 2.2 Froyo, which was released a year ago.
Google may be able to improve this situation in tablets, where its partners should be able to distribute updates without as much delay from carriers. However, there's still no evidence that there's any real market for tablets outside of Apple's iPad, which is aimed at delivering a "post-PC" product that is very different than the wide array of tablets that have existed before it and continue to be designed, all of which seem to focus on hardware specifications rather than real utility.
Samsung, like Motorola, appears to be primarily targeting web browser users, with emphasis on HD video and Adobe Flash, something that is still promised to be finished soon. But as with smartphones, mobile users seem to be more interested in responsive apps that perform a particular task well rather than just buying a web browser appliance, something that has never really gained traction in the market despite many attempts by Be, Palm, Sony and others.