Cheaper iPhone could give Apple control of China's smartphone market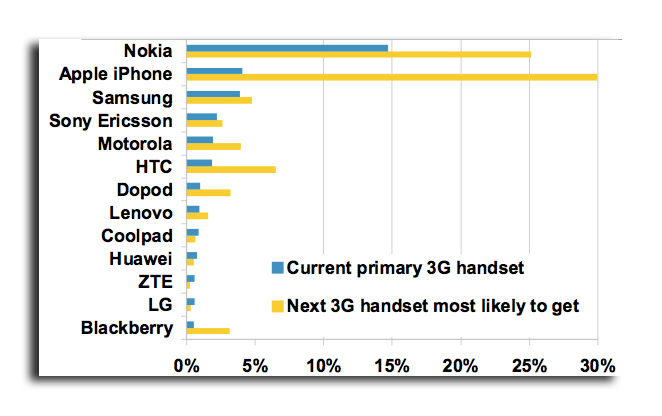 AppleInsider may earn an affiliate commission on purchases made through links on our site.
A new survey shows that Apple is poised to capitalize on an explosion in sales of 3G smartphones in China, with the iPhone the most popular option, though lower prices could give it the lion's share of sales.
The survey results revealed this week by Morgan Stanley and AlphaWise show 3G handsets and smartphones are taking off in China in 2011. Nearly 90 percent of respondents said they have "high interest" in buying a 3G handset or smartphone as their next phone.
Of those who plan to buy a smartphone, the most popular option is Apple's iPhone. A total of 30 percent of respondents with 3G handset purchase intentions said they will most likely purchase an iPhone, followed by 25 percent for a Nokia device, 7 percent for HTC, 5 percent for Samsung, and 4 percent for Motorola.
The iPhone would be an even more popular option, the survey found, if Apple were to lower the price of its smartphone. With a cheaper option, Apple would command a 53 percent share of 3G phone buyers, leaving Nokia with 20 percent and Research in Motion's BlackBery with 5 percent.
Apple did fall behind Nokia when respondents were asked to share what they believe to be the "leading smartphone brands." Of those surveyed, 78 percent indicated Nokia is a market leader, while Apple was cited by 72 percent.
Both Nokia and Apple are well ahead of their competitors in terms of Chinese consumers' perception of "leading" brands. Motorola and Samsung trailed well behind, being named as top brands by 44 percent of respondents each, while RIM's BlackBerry accounted for 40 percent.
The survey polled 2,029 Chinese mobile phone owners during February and March of 2011. The margin of error for the total sample is plus or minus 1.7 percent.
Morgan Stanley has long maintained that the price of the iPhone has been the greatest barrier to adoption in China. The results of the latest survey lend support for this conclusion, as Apple's share of likely shares increased significantly when cost was not a part of the equation.
There has been evidence that Apple is looking to reduce the cost of the iPhone, with rumors of a smaller handset that would be sold contract-free surfacing earlier this year from both The Wall Street Journal and Bloomberg. Those reports of a new, smaller iPhone were disputed by The New York Times, though it was said that Apple continues to look for ways to reduce the cost of its handset.