Patent holder takes aim at Apple for iPhone's ability to search & receive ads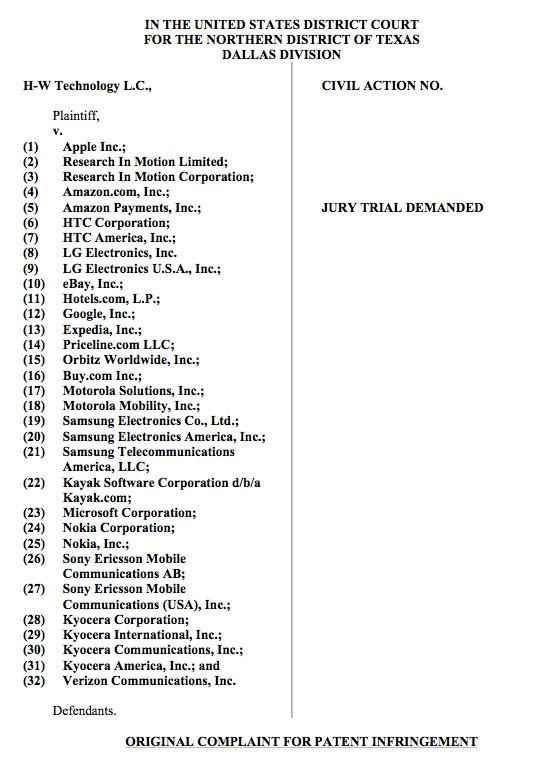 AppleInsider is supported by its audience and may earn commission as an Amazon Associate and affiliate partner on qualifying purchases. These affiliate partnerships do not influence our editorial content.
Apple this week was hit with a new patent infringement lawsuit, as the iPhone maker joins 31 other defendants accused of violating a patent related to Internet-connected phones with search functionality and mobile advertising.
The lawsuit was filed this week by H-W Technology LC, the owner of U.S. Patent No. 7,525,955, entitled "Internet Protocol (IP) Phone with Search and Advertising Capability." The invention was filed in 2004, and granted by the U.S. Patent and Trademark Office in April of 2009.
The patent from H-W Technology describes a handset that is "able to converge voice and data within a single terminal." The advertising-related invention describes the ability of users to "receive information and offers from merchants and to complete a transaction with one of said merchants without having to generate a voice call."
Apple is included in the lawsuit alongside a long list of other technology companies, ranging from partners to rivals. Other defendants include Microsoft, Google, Nokia, Amazon, Research in Motion, HTC, Motorola, Samsung, Sony and Verizon. In all, 32 defendants are named in the lawsuit.
The suit accuses Apple of infringing on the '955 patent by creating "a multi-convergence device having a domain specific application" allowing users to make transactions relying on a data connection alone. Specifically cited in the suit is the iPhone.
H-W Technology seeks a permanent injunction preventing Apple and the other defendants from selling products it believes to be infringing upon the '955 patent. The complaint dated March 30 was filed in a U.S. District Court in the Northern District of Texas, Dallas Division.