iPad 2 helps Apple suppliers post 141% year over year growth in March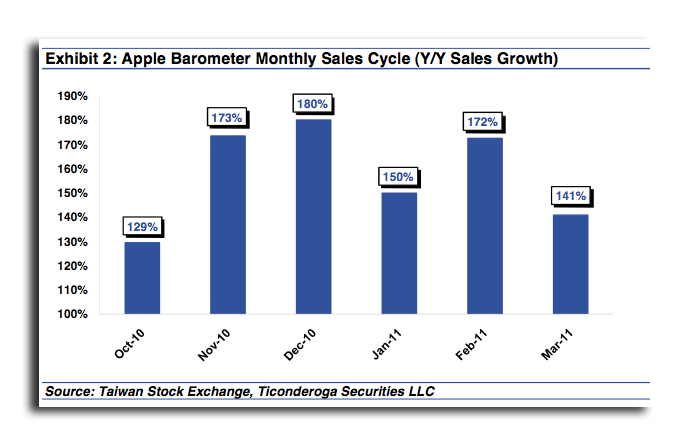 AppleInsider is supported by its audience and may earn commission as an Amazon Associate and affiliate partner on qualifying purchases. These affiliate partnerships do not influence our editorial content.
Offering more indication of the growth of the iPad 2 over its predecessor, Apple's overseas suppliers posted a 141 percent year over year increase in sales in March.
Analyst Brian White with Ticonderoga Securities has collected data from Apple's largest component suppliers in Taiwan into what he has dubbed the "Apple Barometer." He believes that the information, based on sales trends from a broad range of suppliers that see a high concentration of sales from Apple, can offer a glimpse at how well Apple's products are doing.
White said that his "barometer" is more reliable than tracking the revenue trends of a single major partner like Hon Hai Precision and its subsidiary Foxconn, which derive as much as 80 percent of their sales from companies other than Apple.
The Apple Barometer shows an aggregate revenue base, but the names of the specific companies included are not disclosed "due to Apple's secrecy regarding its supply base," White said.
The latest update to the Apple Barometer shows that March sales with overseas suppliers were up 141 percent year over year, following up a 172 percent increase in February. February's sales likely represented pre-launch production of the iPad 2 before it launched in the U.S. in March.
March sales with companies on the Apple Barometer were also up 34.6 percent month over month, which is higher than the six-year average March sales increase of 24.2 percent month over month.
"We believe this strength was driven largely by the ramp of iPad 2 that continues to experience serial stock outs," White said. "Keep in mind, the iPad 2 ramp was a bit earlier than the iPad 1 in 2010 and thus the (month over month) sales growth in March 2011 was below the 52% (month over month) sales uptick in March 2010."
White has been closely following Apple's overseas component suppliers as the iPad 2 has had a strong start. However, actual sales numbers for the second-generation tablet will not be known until Apple reveals its second fiscal quarter 2011 earnings on a call scheduled for April 20 at 5 p.m. Eastern, 2 p.m. Pacific.
Last week, he reported that Apple has become more aggressive in securing components from overseas suppliers, and has even begun offering upfront cash payments to ensure supply and block out competitors.
Reports from Apple's supply chain have suggested that about 2.5 million iPad 2 units were delivered to Apple in the month of March. If accurate, that total would well exceed the sale of the first-generation iPad, which took 28 days to reach one million units sold.