Intel to release Thunderbolt developer kit this quarter

Intel revealed on Tuesday that developer kits for its new Thunderbolt high-speed interconnect, which made its debut on Apple's early 2011 MacBook Pros, will be made available later this quarter.
Apple and Intel partnered up in February to introduce the Thunderbolt technology on a new line of MacBook Pros. Intel later suggested that Apple had a full year head start on its competitors.
Later this quarter, however, Intel will attempt to level the playing field with the release of developer kits for the technology, Macworld reports. According to an Intel spokesman, those kits could reduce the amount of time needed by device makers to bring Thunderbolt products to market.
Intel has already lined up several additional partners to help drive adoption of Thunderbolt, including LaCie and Western Digital.
Vendors began showing off new products that take advantage of Thunderbolt at the National Association of Broadcasters convention in Las Vegas earlier this week. For example, AJA, BlackMagic and Matrox all have Thunderbolt-capable breakout boxes on display at the show.
Apple is expected to release a new version of Final Cut Studio at an NAB side event late Tuesday.
Canon executives have also expressed interest in the technology, though the company has yet to formally announce any related products. Sony and HP are also reportedly looking into bringing Thunderbolt to their laptops.
Thunderbolt pairs the high-speed PCI Express serial interface with the Apple-developed Mini DisplayPort to provide both data and video through a single port with I/O performance of up to 10Gbps. Originally codenamed 'Light Peak,' Intel had planned to use optical cabling but switched to copper wire because of cost constraints.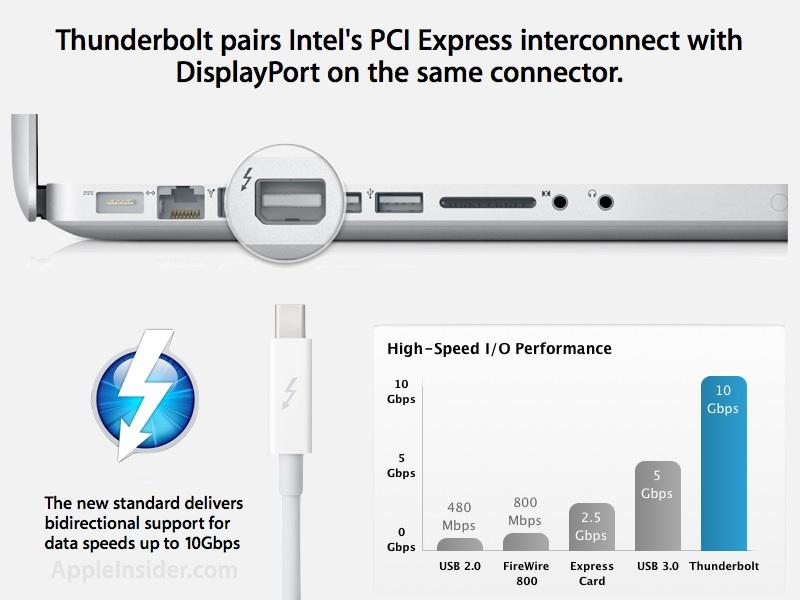 As adoption of the standard begins to ramp up, Apple is looking to build out its in-house Thunderbolt team. Last week, the Mac maker posted job listings for a "Thunderbolt Software Quality Engineer" and a "Thunderbolt Firmware/Software Engineer."