Verizon iPhone helps Apple outgrow Android in March ad impressions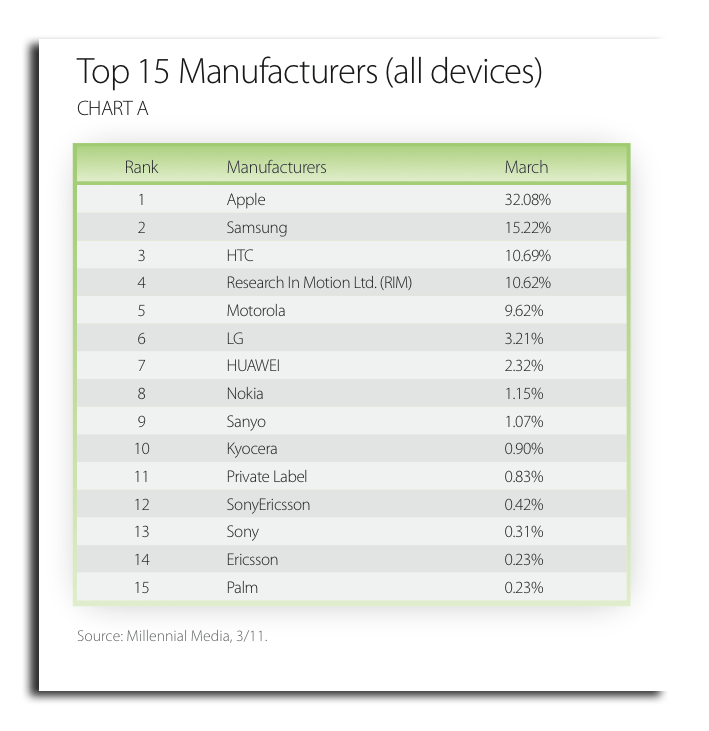 AppleInsider may earn an affiliate commission on purchases made through links on our site.
The online presence of the iPhone grew 17 percent month over month in March, largely thanks to sales of the Verizon iPhone, according to new data from Millennial Media, the largest independent mobile advertising network.
The information was revealed on Thursday as part of the advertising network's monthly "Mobile Mix" report. Based on ad impressions on Millennial Media's network, the iPhone grew 17 percent month over month, and the iOS mobile operating system grew 11 percent.
Apple's strong performance in the mobile space was largely tied to the Verizon iPhone, which accounted for 8.2 percent of iPhone advertising impressions in the month of March.
The growth of the iPhone in March outpaced all devices running the Google Android mobile operating system on Millennial Media's network, though Android remains the largest platform. Apple's share of smartphone ad impressions went from 28 percent a month prior to 31 percent in March, while Android slipped from 51 percent to 48 percent.
Android's losses in March are a reversal from previous months, as Google's mobile operating system has continued to grow on Millennial's network. For example, just last August, Apple's iOS accounted for 48 percent of smartphones, while Android took just 26 percent.
In March, Apple remained the top manufacturer on Millennial's network when all devices, including tablets, were factored in, taking 32.08 percent. The iPhone, too, was the top smartphone, representing 19.42 percent of all devices.
And when breaking down application revenue by platform, Apple took a 47 percent share, despite having a smaller number of devices seen in Millennial's advertising network. Android, the largest platform, took a 36 percent share.
Connected devices like the iPad increased 21 percent month over month, and now make up 17 percent of the device impression share. Smartphones account for 64 percent of devices, while "feature phones" are 19 percent.
March also saw the launch of the iPad 2, and Millennial's network saw iPad impressions grow accordingly, 7 percent month over month.
Millennial Media became the largest independent advertising network after Google acquired AdMob, and Apple bought Quattro Wireless last year. Apple's acquisition of Quattro paved the way for the company to launch its own advertising network, iAds, in 2010.