Ad requests from Apple's iPad see 76% month-over-month increase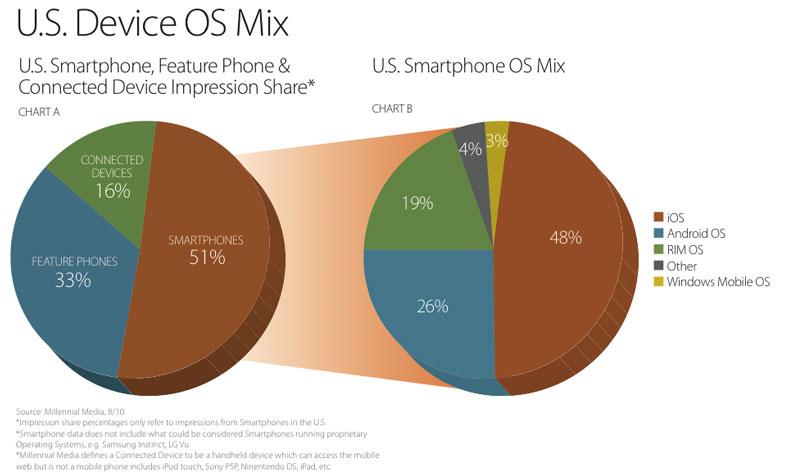 AppleInsider may earn an affiliate commission on purchases made through links on our site.
The continued growth in popularity of the iPad is represented in the latest data from ad firm Millennial Media, which found that iPad ad requests grew 76 percent month over month.
Millenial Media's MobileMix data points for August 2010, made public on Tuesday, found that iOS share of U.S. smartphones on its ad network remained relatively flat month over month, taking 48 percent. But iPad requests alone grew a whopping 76 percent month over month in August.
The number of devices running Apple's iOS remains nearly twice as large as the next-largest smartphone platform, Google Android, which represented 26 percent of U.S. smartphones. But Android continues its fast-paced growth, with ad requests increasing 39 percent month-over-month. Since January, Android has grown 996 percent.
Research in Motion has also grown, seeing a 16 percent month-over-month increase in August. Since January, the BlackBerry platform has grown 93 percent.
In terms of hardware manufacturers, Apple is again the leader, as it has been since Sept. 2009. Apple devices represented 28.32 percent of all impressions in August.
The iPhone was also the most popular mobile phone seen by Millennial Media, taking 27.67 percent. That was well ahead of the No. 2 device: the Motorola Droid.
Apple's share of Millennial Media ad impressions in the U.S. remains dominant, though it has slipped since earlier this year. In April, the company reported that the iPhone represented 70 percent of its smartphone traffic.
By July, though, the iPhone represented 55 percent of smartphone ads, while Android took 19 percent.
In June, the company also revealed that more than half — 56 percent — of mobile developers support Apple's iOS, and 90 percent of those are single platform, meaning they develop exclusively for Apple's iOS devices.