Millennial: Apple's iPhone displays 55% of smartphone ads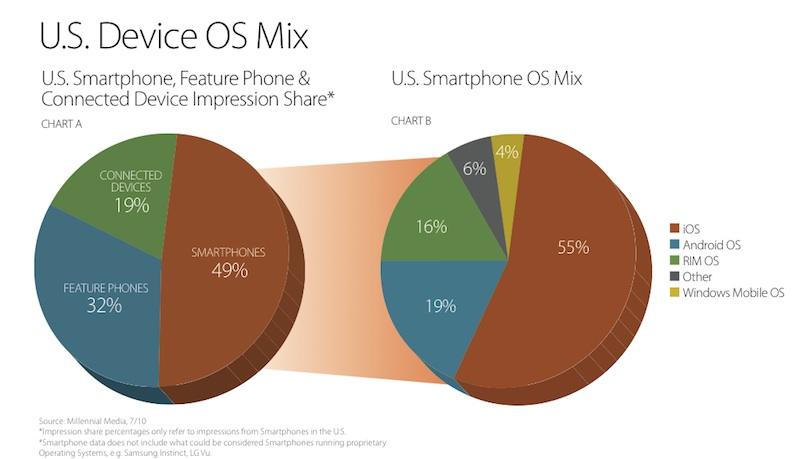 Millennial Media, the largest independent mobile adverting network, has released figures for July showing Apple leads mobile devices in general with its iOS platform and smartphones in particular with iPhone.
Millennial Media's Mobile Mix report for July 2010 says Apple remains the leading device manufacturer on its ad network, with 35 percent share of all ad impressions.
Samsung is in second place with 17 percent, RIM in third with 10 percent, while Motorola and HTC round out the top five with 9 and 7 percent shares, respectively.
Excluding non-phone devices, Apple's iPhone ranks first among the top 20 mobile phones with 24 percent share, followed by RIM's BlackBerry Curve with 6.7 percent, Motorola's Droid with just under 5 percent, and two Samsung models filling out the top five.
Smartphones in the mobile device pie
Twelve of the top 20 mobile phones are smartphones; six are Android devices, four are BlackBerry. OF all the mobile devices Millennial handles, 32 percent are simple feature phones while 19 percent are "connected devices," which include video games such as the Sony PSP and Nintendo DS, and web enabled devices like iPod touch. The other 49 percent are smartphones.
Looking only at smartphones (which are defined as running a recognizable operating system, excluding some higher end feature phones using a proprietary operating system such as the Samsung Instinct and LG Vu), Apple commands 55 percent of the pie, while Android smartphones delivered 19 percent, RIM had a 16 percent share, Windows Mobile took 4 percent, and every other platform added up to 6 percent.
Developers, developers, developers
Among developers targeting multiple platforms on its ad network, Millennial reports that 100 percent support Apple's iOS, while 75 percent target Android, 46 percent support RIM's BlackBerry OS, 29 percent write for Symbian, 21 percent use Java, and 17 percent support other platforms, including Java, Symbian, Windows Mobile, and BREW.
The top mobile category for mobile software continues to be games, which represented 47 percent of the app revenue from Millennial's network. Social networking apps remain in second place. Music apps jumped up from sixth in June to third place in July, while weather and news apps filled out the top five most popular categories of apps.
Most of Millennial's data reflects the US market, but globally, the company said July ad requests on Android have grown 47 percent over June, and 690 percent since January. Apple's iOS ad requests increased 24 percent in July, and 15 percent since January. iPad requests grew by 327 percent in the month of July. RIM's ad requests grew by 18 percent over June, and 66 percent since January.
Millennial Media became the largest independent mobile adverting network after Google acquired AdMob and Apple bought up second place Quattro Wireless last fall. Apple has since converted Quattro into iAd, which is also now exclusive to the iOS platform.
RIM has reportedly expressed interest in buying Millennial to joint Apple and Google in the ad arms race but balked at the price, leaving Millennial to report an intent to remain independent.
Apple's iOS SDK insists that developers not include code from competing ad networks that collect private data from users for any purpose other than to serve relevant ads, and technically bars advertisers linked to competing platforms from harvesting private data from iOS users at all, although it does not appear to be enforcing this rule.
As AdMob shifted from an independent to a subsidiary of Google, the company's analytics began to reflect a bias toward promoting Android as a platform. Apple never released any public analytical data through Quattro after acquiring it, and now that iAd is Apple's preferred ad network for iOS, data from other ad networks (whether affiliated with another platform vendor or independent) will increasingly lack access to the full scope of what is occurring in mobile ads due to Apple's legendary secrecy.