JP Morgan: Apple's 2Q 2011 revenue estimate raised to $24.42 billion

AppleInsider is supported by its audience and may earn commission as an Amazon Associate and affiliate partner on qualifying purchases. These affiliate partnerships do not influence our editorial content.
Ahead of Apple's quarterly earnings call on Apr. 20, investment bank J.P. Morgan has raised its projections of Apple's earnings through 2012 in expectation of continued growth from the iPhone and iPad.
J.P. Morgan analyst Mark Moskowitz issued a note to investors early Friday with the revised estimates, reiterating the firm's Dec. 2011 price target of $450 and Overweight rating of Apple. Moskowitz raised his projections for Apple's EPS for the second quarter of fiscal 2011 to $5.39, up from $5.21 and increased his revenue estimate for the March quarter from $23.83 billion to $24.42 billion.
According to Moskowitz, the Street consensus for the quarter stands at $23.26 billion in revenue and $5.38 EPS.
By comparison, in the first quarter of fiscal 2011, which included the retail-heavy holiday season, Apple reported a record $26.74 billion in revenue. In the year ago quarter, Apple beat Wall Street expectations with $13.5 billion in revenue.
While cautioning that "the law of large numbers stands to diminish the relative magnitude of earnings beats exhibited in years past," Moskowitz noted that Apple's growth trends "will be too big to ignore."
In particular, Moskowitz cited research indicating that Apples iPhone shipments were stronger than expected, aided by the launch of the Verizon iPhone and "broader channel fill" for the GSM model. J.P. Morgan now sees Apple as having sold 18.4 million iPhones in the second quarter of fiscal 2011 versus 16.6 million units previously.
Moskowitz referenced a note from earlier this week where he suggested that the CDMA iPhone could represent a $9 billion opportunity for Apple in 2012, adding that non-Verizon CDMA are expected to play an important part in the sustained growth of the iPhone.
Though Moskowitz cautiously lowered iPad estimates for the March quarter from 6 million to 5.4 million over concerns that the iPad 2 launch resulted in a "temporary stall-out" in shipments, the analyst asserted that the issue was "timing related and not structural." The firm remains confident in the continued growth of the iPad and has raised its calendar 2011 iPad estimates to 31.3 million, up from 29.1 million previously.
In March, Moskowitz warned that technical and form factor improvements made by Apple to the iPad 2 could cause a "bubble burst" for other tablet manufacturers, especially for late-to-market copycats who are trying to secure components with "inflated build plans." Just days after a blowout iPad 2 launch, Moskowitz declared that Apple had an "insurmountable lead" in the tablet market.
In Friday's note, the analyst downplayed concerns that the upcoming rebalance of Apple's share of the Nasdaq-100 index would have a lasting effect. Moskowitz estimates that the changes will result in about 8 million shares of Apple stock being sold by index funds and passive managers, which amounts to just half of Apple's daily trading volume.
Moskowitz also revised Mac unit estimates slightly upward for the quarter, projecting 32 percent year over year growth for a total of 3.89 million Macs sold, compared to a previous estimate of 3.85 million. Citing conversations with industry participants, Moskowitz predicted that the MacBook Air will continue its "break-out performance" from the first quarter of fiscal 2011.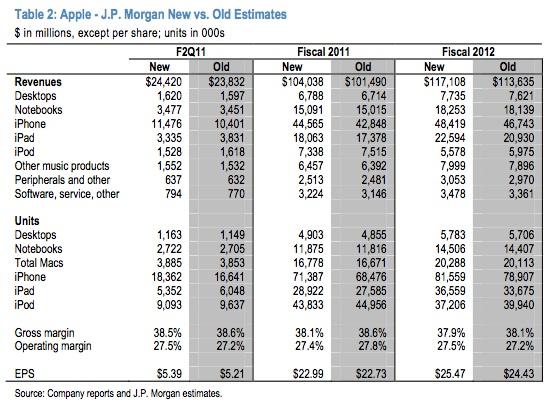 Given the possibility of disruption to Apple's supply chain as a result of the Japan earthquake and tsunami in March, Moskowitz warned that Apple's gross margins will likely decline in the near to mid-term. This could also be exacerbated by the growing portion of Apple's revenue derived from the iPad, since the iPad's margins are generally lower than Apple's other product lines.
Regarding the iPod, Moskowitz restated his position that the sales are likely to decline due to cannibalization from the iPad and iPhone. The analyst lowered unit estimates for the March quarter from 9.6 million to 9.1 million, while noting that growth from the Mac, iPhone and iPad lines should "more than offset the chronic decline of the iPod over time."
By way of comparison, analyst Mike Abramsky with RBC Capital Markets sees Apple selling 7 million iPads, 17 million iPhones and 3.6 million Macs in the second quarter of fiscal 2011.
Apple is set to reveal its quarterly earnings for the second fiscal quarter of 2011 on a call next Wednesday, April 20. The call will begin after the market closes, at 5 p.m. Eastern, 2 p.m. Pacific.