Developers report changes to Top App ranking algorithm on Apple's App Store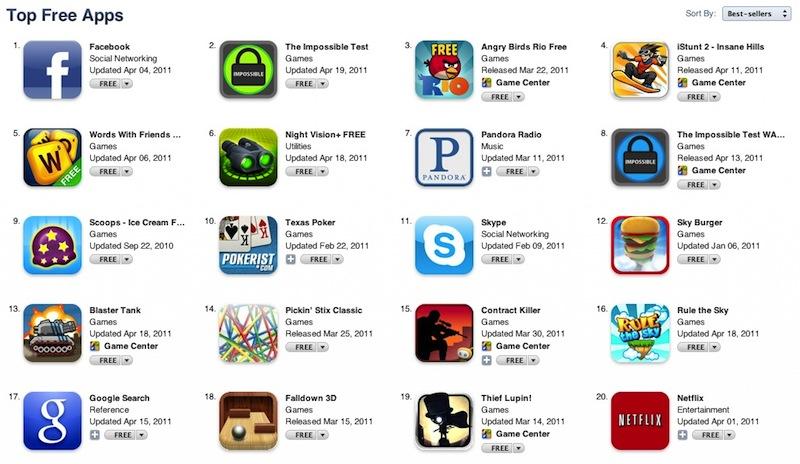 AppleInsider is supported by its audience and may earn commission as an Amazon Associate and affiliate partner on qualifying purchases. These affiliate partnerships do not influence our editorial content.
After several iOS apps experienced a drastic shift in their rank on the bestselling apps list for Apple's App Store, iOS developers and analytics firms have speculated that Apple has quietly changed the criteria for its app ranking system to deemphasize downloads in favor of usage.
Several sources reported sudden shifts in the rankings of the Top Free applications on Apple's App Store this past week, Inside Mobile Apps reports.
Analytics firm Flurry was one of the first to call attention to the differences. "We've been noticing changes in the Top Free rankings for at least three days now," said vice president of marketing Peter Farago. "From our point of view, Apple is absolutely considering more than just downloads, which we believe is the right direction to measure true popularity of an app."
Big-name applications such as Facebook, Netflix and Pandora gained from the ranking adjustment. Facebook jumped to the No. 1 position for top free iPhone apps after spending most of the last year and a half in the No. 10 to No. 20 range. Netflix rose to No. 20 after being ranked between 30 and 50 last month, while Pandora saw a substantial boost to No. 7, up from hovering in the twenties.
Given that Facebook, Netflix and Pandora presumably see heavy daily use by users, some developers have surmised that Apple now counts daily and monthly use in its ranking algorithm.
"It looks like it's daily actives and monthly actives. Basically, how much is the product used? Is it just sitting there on the handset or is it being actively used?" said Mike Breslin, marketing director at game developer Glu Mobile, adding that "download numbers can have a lot of duplicity."
Glu Mobile saw its Gun Bros app jump to the 32nd spot on the free list after dwindled to a spot between No. 75 and No. 100. The application's top-grossing ranking, however, remains unchanged.
The free publicity and accompanying increase in sales that come from topping the App Store charts has resulted in a "gold rush" climate similar to the Google PageRank and SEO rush from 10 years ago. As such, Apple's recent changes to the bestselling app rankings have caused turmoil as developers scramble to adjust.
The iOS platform's larger mobile advertising networks could be affected by the change. According to the report, networks such as Flurry, Tapjoy and W3i had implemented a pay for download system specifically designed to help apps break into the bestseller list.
The pay for download model has been especially popular for social game developers who rely on in-app purchases for revenue. "Many of the top mobile-social game developers buy installs to bring new users in the door, who they can monetize later with in-app purchases of virtual currency," the report read.
Some were quick to discount the impact the changes will have on the pay per download marketing model. W3i noted that, in spite of the new algorithm taking effect last week, two of the company's larger install campaigns proceeded as planned, with both apps successfully cracking the Top 25.
Others, however, remain cautious about the model in light of the new ranking system. "Now that the picture's a little different, we're not really sure how smart it is to be spending a lot of money to gain visibility if we're not seeing the best return on investment," said John Hwang, vice president of social games at Gameview Studios. Gameview used an install campaign last month to help a new app, Tap Jurassic, reach 1 million downloads in ten days.
If Apple has indeed adjusted the rankings to take usage into account, it could be an attempt by the company to reward developers for designing more robust and engaging apps. Some developers have expressed concern that the App Store catalog, which has reached 350,000 apps, has been deluged by low-quality and forgettable apps, making it more difficult for users to discover noteworthy apps.
Also of note, Apple appears to have expanded the App Store bestseller list to include the top 300 apps, up from just the top 50.
Google has reportedly made similar changes to its ranking algorithm for the Android Market application store.
The Android Market has struggled, especially as studies have shown that Android users are generally more averse to paying for apps than iPhone users. Complaints have also arisen that the Android Market "has few high quality apps" and an overabundance of spam, fake apps and copyright infringement.
Late last year, game developer John Carmack said, "the [Android] marketplace is also apparently not well handled. And from what I hear, nobody's making a lot of money on these [Android titles]."
Flurry, which provides 80,000 applications with analytics services, angered Apple CEO Steve Jobs last year when it published device and location data for 50 suspected Apple tablets prior to the unveiling of the iPad. The company subsequently changed its policies to comply with Apple's updated terms of service.
"Regarding sharing some specific aggregated usage statistics, to which Apple is opposed, we will comply with their wishes," Flurry's vice president of marketing Peter Farago told AppleInsider last June.