Wall Street: Apple is "magical growth story" in tech, defies gravity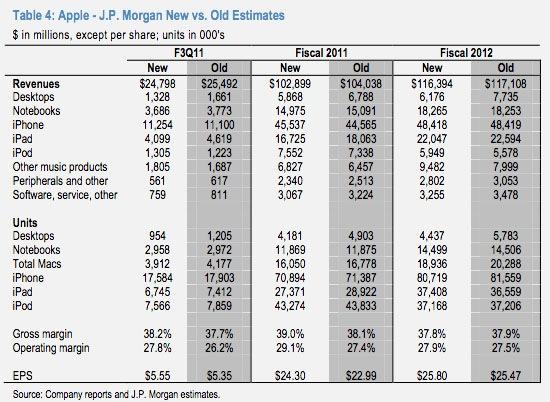 AppleInsider is supported by its audience and may earn commission as an Amazon Associate and affiliate partner on qualifying purchases. These affiliate partnerships do not influence our editorial content.
Wall Street was impressed with Apple's record earnings for the second quarter of fiscal 2011 on Wednesday, as one analyst calling the company a "magical growth story" and several firms raised their revenue estimates for future quarters.
J.P. Morgan analyst Mark Moskowitz issued a note to investors late Wednesday projecting that Apple's stock will rebound as investor confidence in Apple's continued growth is restored. The company's record-breaking second quarter results, which included 83 percent year over year revenue growth, "have gotten too big to ignore as Apple defies the law of gravity," Moskowitz said.
"In our view, Apple is the magical growth story in large-cap tech. The iPhone and Mac momentum should keep investors interested, particularly as light iPad units in the March quarter related to launch timing and not demand," he continued.
Apple handily surpassed J.P. Morgan's expectations for the second quarter of fiscal 2011, despite the fact that the firm's estimates were ahead of Wall Street consensus estimates.
Moskowitz reiterated his Dec. 2011 price target of $450 and raised estimates for Apple. "Bulls win," he declared, adding that "Apple squashed the recent parade of investor concerns."
In particular, Moskowitz pointed to Apple's improved gross margins and projection of just $200 million in negative impact to revenues from last month's Japan disaster. Apple posted 41.4 percent gross margins for the March quarter and projected 38 percent margins for the third quarter of the fiscal year. According to Moskowitz, some "bogey investors" had predicted Apple's margins would fall to 36 percent.
On Wednesday, Apple Chief Operating Officer Tim Cook told investors that the company hadn't been significantly impacted by supply disruption in Japan, though he did caution that the situation remains volatile.
Moskowitz's revised estimates see Apple generating $5.55 in Earnings Per Share next quarter, up from a previous estimate of $5.35. The windfall comes mainly from a better than expected gross margin, as Moskowitz actually revised revenues downward while projecting increased profits.
For the 2011 fiscal year, Moskowitz predicts $102.90 billion in revenue and $24.30 EPS. By comparison, the Street consensus prior to Wednesday's earnings call stood at $100.77 billion in revenue and $23.00 EPS for the current fiscal year.
Moskowitz indicated that he does not believe a "major refresh" of the iPhone will come this year. "There will be [an iPhone refresh], but it is not likely to be a form factor change," he said, cautioning that customer anticipation of an iPhone update could lead to a "summer malaise" in smartphone.
Last week, J.P. Morgan revised its estimates upwards, while accurately predicting that supply constraints would limit sales of the iPad 2. According to a recent report from one analyst, Apple intends to double shipments of the iPad in the third quarter of fiscal 2011.
Morgan Stanlye's Katy Huberty viewed Wednesday's results from Apple as providing a "line of sight" to Morgan Stanley's bull case of $50 EPS in 2013. Huberty's bull case projects shares of Apple will reach $540 by Nov. 2011, while her base case and bear case project $428 and $270 respectively.
"Apple's March quarter results present several encouraging data points that support our thesis and increase the likelihood of our bull case price target," Huberty wrote in a note to clients Wednesday.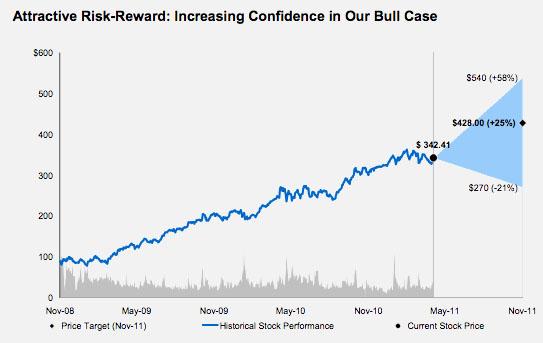 Citing staggering demand for the iPad 2, Apple's runaway growth in China and the company's commitment to replicating its China strategy in other emerging markets. Huberty also saw accelerating iPhone growth, above expectation margins and the reassurance that Apple remains largely unaffected by supply issues in Japan as strong positives for Apple.
Huberty did, however, air a short list of concerns that could hinder Apple's bull case. For instance, the lack of an iPhone launch in the June quarter could adversely affect unit sales. Also, Apple's indication that it does not plan to introduce an LTE iPhone this year could spark investor worries.
According to earlier notes from Huberty, four key under-appreciated growth catalysts could contribute to Apple's bull case: sales growth in the Asia Pacific region; expansion price points for the iPhone leading to increased smartphone market share; a "Smart TV" new product category and continued dominance in the tablet market.
Piper Jaffray analyst Gene Munster issued a note to clients Thursday saying, "We continue to be buyers of AAPL," and calling Apple's March quarter "monster" in spite of iPad 2 shortages.
Munster believes that iPad 2 supply and demand won't hit equilibrium until "late in the June quarter." He also expressed relief at the news that Apple had eliminated a "key risk factor in the June quarter" by avoiding supply issues in Japan.
Munster agreed with recent reports that Apple will ship the iPhone 5 in "the Sept. quarter (likely in the month of Sept.)."
The analyst noted that Piper Jaffray projects Apple's revenue will be down 3 percent quarter over quarter in June. According to Munster, Apple's revenues have gone up an average of 4 percent from the March quarter to the June quarter over the past ten years.
However, Munster explains Piper Jaffray's modeling breaks from the trend because it views $1.1 billion of Apple's revenue from the second quarter of fiscal 2011 as a temporary gain from a "1.7 million iPhone unit channel fill." When adjusted for the channel fill, Munster's predictions show Apple growing revenue by 1 percent quarter over quarter in June.
Given Apple's news that iPhone sales in China, a mostly pre-paid market for mobile phones, were up over 3 times last year's numbers, Munster sees continued expansion in pre-paid markets as an opportunity for Apple.
Munster raised his price target from $483 to $554 and maintained an Overweight rating on shares of Apple.