Apple shares dip just 1% after Nasdaq index rebalance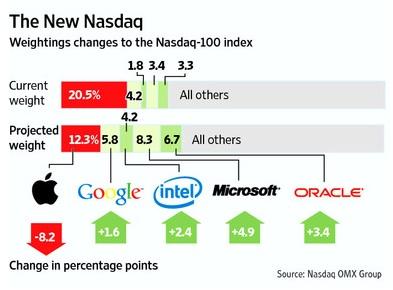 AppleInsider is supported by its audience and may earn commission as an Amazon Associate and affiliate partner on qualifying purchases. These affiliate partnerships do not influence our editorial content.
After the re-weighting of Apple's portion of the Nasdaq-100 index from 20.5 percent to 12.3 percent went into effect on Monday, shares of the company's stock dropped just 1 percent.
Shares of Apple stock closed at 346.28, down 1.10 percent, on Monday. The company's stock saw a spike in volume on Monday morning, with nearly 13 million shares trading hands in just 30 minutes. As of the close of market on Monday, the company's stock is up 6.99 percent year to date.
Last Friday, the last day of trading before the rebalance, Apple's stock price ballooned up $7 at one point during the day before settling at 350.15 just before the close of market. According to one report, an investor sold off more than 6 million shares of Apple stock, worth over $2.1 billion, in after hours trading on Friday.
Nasdaq formally announced the rebalancing of the Nasdaq-100 index last month. The changes removed Apple's boosted share of the index, bringing its portion in line with a standard ratio based on the number of shares.
Though all 100 of the companies tracked by the index were affected, Apple saw the biggest change. In addition to Apple, 80 of the companies saw their weighting reduced, while Microsoft, Intel, Oracle and Google gained from the rebalancing.
Following the announcement, Apple stock declined for two weeks before recovering at the end of April. Early reports had suggested that Apple stock might drop as funds directly tracking the index sold off some of their shares, but Wall Street analysts reassured investors that any negative impact would be short-term and would represent a buying opportunity.
Brian White with Ticonderoga Securities told investors last month that the rebalancing would add "more noise" to an already loud past few months. According to White, after initial concerns regarding the Nasdaq rebalancing, possible supply issues arising from the Japan earthquake and tsunami and Apple CEO Steve Jobs' health have quieted down, Apple stock will reach new all-time highs as investors return to a focus on the company's fundamentals.
J.P. Morgan analyst Mark Moskowitz said in a note to clients that the re-weighting was unlikely to have a lasting effect. Moskowitz estimated that index funds and "passive managers" adjusting their holdings would result in sales of just 8 million shares of Apple stock, roughly half of the company's daily trading volume. The firm maintains a Dec. 2011 price target of $450 and Overweight rating of Apple.