Pranksters affix Windows logo to upcoming Hamburg Apple Store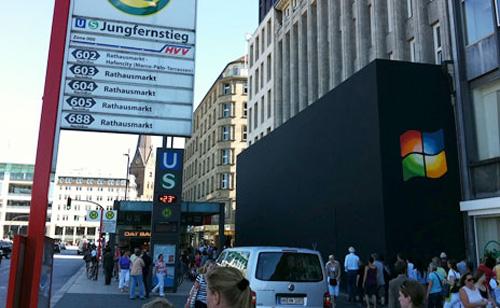 A group of pranksters disguised themselves as construction workers on Saturday in order to post a Windows logo onto the facade of a future Apple Store in Hamburg, Germany.
The .WAV Collective posted a video of the prank taking place, as noted by MacNN. In the video, a fake construction crew member scales a ladder in broad daylight to screw in a mismatched Windows logo to the black facade used to hide the store.
According to the report, the team "took care to make it easily removable," suggesting that the actions were a light-hearted prank, rather than malicious vandalism.
The Jungfernstieg store will be the second store in Hamburg. Apple has already begun hiring for the two level store, which is expected to open by the end of September.
Interestingly enough, the prank occurred shortly after fluctuations in the U.S. stock market resulted in Apple's market value exceeding the combined value of Microsoft and Intel. Microsoft's Windows operating system and Intel's x86 processors comprise the so-called "Wintel monopoly" that Apple competes against with its line of Mac computers. The two companies had a combined market value of $316.8 billion at the close of market on Friday, while Apple closed with a market capitalization of $317.6 billion, Mac Daily News reported.
In 2009, Microsoft followed in Apple's footsteps by launching a new retail initiative. The company even went so far as to open one of its first stores in direct competition against an already-established Apple store in Mission Viejo, Calif.
Microsoft, however, has not enjoyed the measure of success that Apple has with its stores. Last month, Apple celebrated the 10th anniversary of its retail stores by launching a "Retail 2.0" initiative with "Smart Sign" interactive iPads providing product information.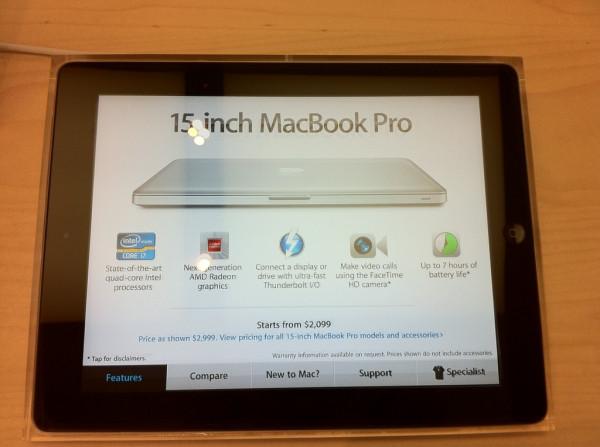 Apple Retail 2.0 display iPad | Source: leoleakey
Apple recently hosted the 1 billionth retail visitor to its stores. Last quarter, revenue from retail stores reached $3.19 billion. As of the end of the March quarter, Apple operated 323 stores, with plans to open 40 additional locations in fiscal 2011.