Amazon begins pre-orders for authorized Steve Jobs biography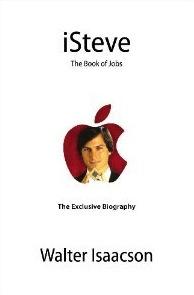 AppleInsider is supported by its audience and may earn commission as an Amazon Associate and affiliate partner on qualifying purchases. These affiliate partnerships do not influence our editorial content.
Online retailer Amazon has begun taking pre-orders for "iSteve: The Book of Jobs," the authorized biography of Apple CEO and co-founder Steve Jobs, with a tentative March 2012 release date.
Publishing house Simon & Schuster formally announced in April that former Time executive Walter Isaacson was working on an authorized biography of Jobs due out in early 2012. Rumors of the book first emerged last February.
Amazon is charging $19.80, or 34 percent off the list price, for the hardcover edition of the book and $14.99 for the

">Kindle edition

with a pre-order price guarantee. The book's release date is currently listed as March 6, 2012. Apple is also offering $14.99 pre-orders for the book on iBooks.
Isaacson has conducted "three years of exclusive and unprecedented interviews" with Jobs, as well as "extensive interviews" with family members, colleagues and competitors, the book's description notes, adding that "iSteve is the definitive portrait of the greatest innovator of his generation."
Jobs is among impressive company as a subject for Isaacson, who has written best-selling biographies on Benjamin Franklin and Albert Einstein. "This is the perfect match of subject and author, and it is certain to be a landmark book about one of the world's greatest innovators," Simon & Schuster publisher Jonathan Karp said in April. "Just as he did with Einstein and Benjamin Franklin, Walter Isaacson is telling a unique story of revolutionary genius."
The book's product page also features a cover image, though the current image is most likely a placeholder.
Jobs has been the subject of numerous biographies in the past, but Isaacson's work is the first to gain approval from the executive, who is guarded about his private life. In 2005, the release of an unauthorized biography entitled "iCon Steve Jobs: The Greatest Second Act in the History of Business" prompted Apple to remove all titles by the publisher from the company's retail stores. The resulting publicity led to a doubling of the book's initial press run.