Apple investigating iPhone app to coordinate movie times with other plans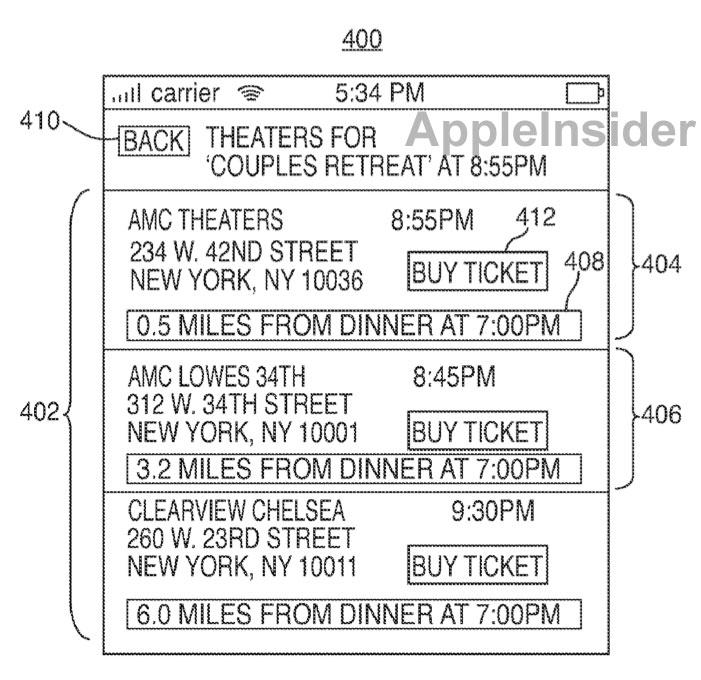 AppleInsider is supported by its audience and may earn commission as an Amazon Associate and affiliate partner on qualifying purchases. These affiliate partnerships do not influence our editorial content.
Apple has shown interest in creating its own iPhone application that would present users with movie showtimes that would fit into their personal calendar and schedule of plans.
The iPhone software, revealed in a patent application discovered by AppleInsider this week, would link with the calendar data stored on a user's iPhone, as well as location-based data for nearby theaters. The proposed invention was filed with the U.S. Patent and Trademark Office in a patent application entitled "Systems and Methods for Providing Context-Based Movie Information."
Apple's solution would obtain showtimes from multiple theaters, but would take care not to inundate the user with too many showtimes. Instead, movie times would be presented in time slots, and user would be presented with a series of time intervals that fit their schedule and location.
Even if a user were to manually select an unavailable time slot, the movie application could prompt the user to view information associated with a scheduled calendar event. From there, users could be presented with the option to cancel the event listed on their calendar, and the application would adjust accordingly, presenting new available showtimes.
In addition to showtimes and calendar conflicts, movie times and locations could also be recommended based on current traffic conditions. With this, users could determine which theater and showtime would be ideal after a scheduled event, like dinner at a restaurant.
Apple's proposed iPhone software also has social elements integrated. The movie application could access a user's list of contacts, and shared contacts would be able to see when and where their friends are seeing a movie.
Users could also choose to actively send their movie plans to friends. For example, if a calendar entry were to include the names and contact information of dinner participants, once tickets are ordered the appropriate information could be sent to those contacts.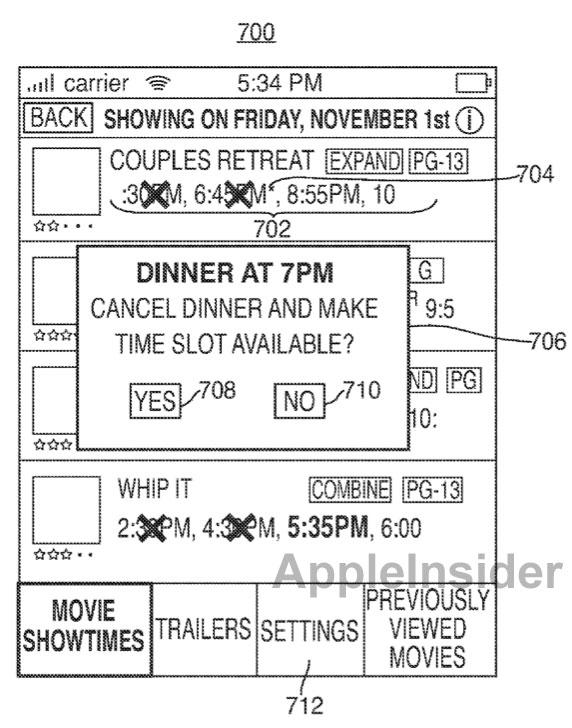 The movie application could also include links to purchase tickets, as well as movie trailers. Apple already offers a similar set of features on its website, with movie locations and showtimes provided in an iOS-friendly HTML5 site.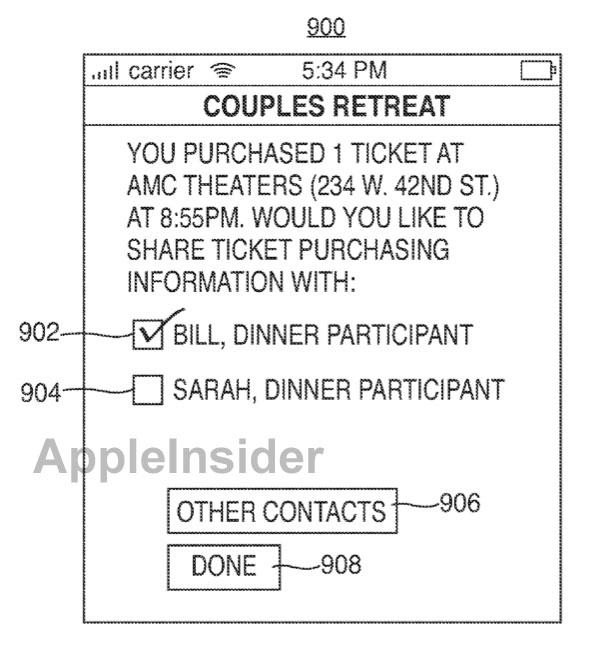 Apple's patent application, made public this week, was first filed with the USPTO in December of 2009. The proposed invention is credited to John Louch and Todd Ditchendorf.