Apple bumps Time Capsule capacity to 3TB, no mention of new features [u]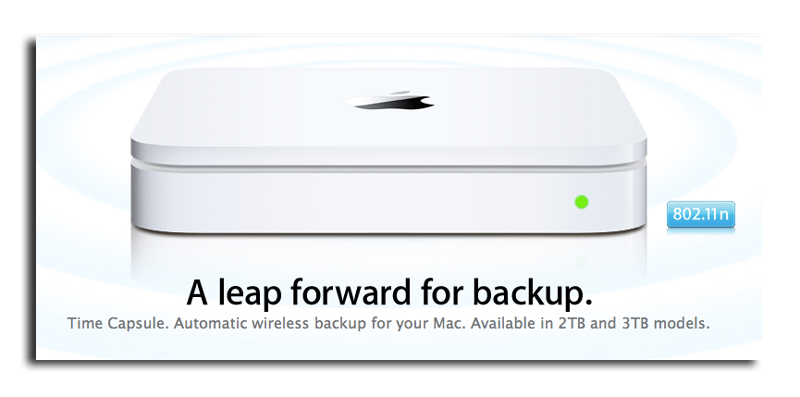 Apple on Tuesday increased the capacity of its Time Capsule network attached storage with a 3-terabyte model, but the quiet refresh made no mention of other changes to the hardware.
The new models were revealed by Apple on its official Time Capsule page, mentioning 2TB and 3TB models.
Update: The Apple Online Store has been updated, with the 2TB and 3TB models selling for $299 and $499, respectively. The previous generation 1TB model ran for $299, while the 2TB offering was $499.
The official page still advertises the ability to wirelessly and automatically back up a Mac with the Time Capsule, as well as the hardware's included dual-band 802.11n wireless base station. It also has the same dimensions, at 7.7-by-7.7 inches.
The lack of new advertised functionality quashes earlier rumors that an updated Time Capsule could be powered by Apple's iOS lightweight operating system found on the iPhone, iPad and new Apple TV. It was suggested that a transition could allow for more robust features, like print and media streaming services, integration with iCloud, and cached wireless software updates.
While the Time Capsule was quietly updated on Tuesday, a refresh of Apple's AirPort Extreme router is also expected to arrive in the near future, having recently been outed by a filing with the U.S. Federal Communications Commission. Stock of both Time Capsules and AirPort Extreme base stations had run dry at Apple retail stores and third-party resellers in recent weeks.
The capacity of the Time Capsule was last increased to 2TB in July of 2009. That $499 model doubled the capacity of the previous high-end 1TB Time Capsule.