Apple rumored to be working on iOS-powered HDTVs for late 2011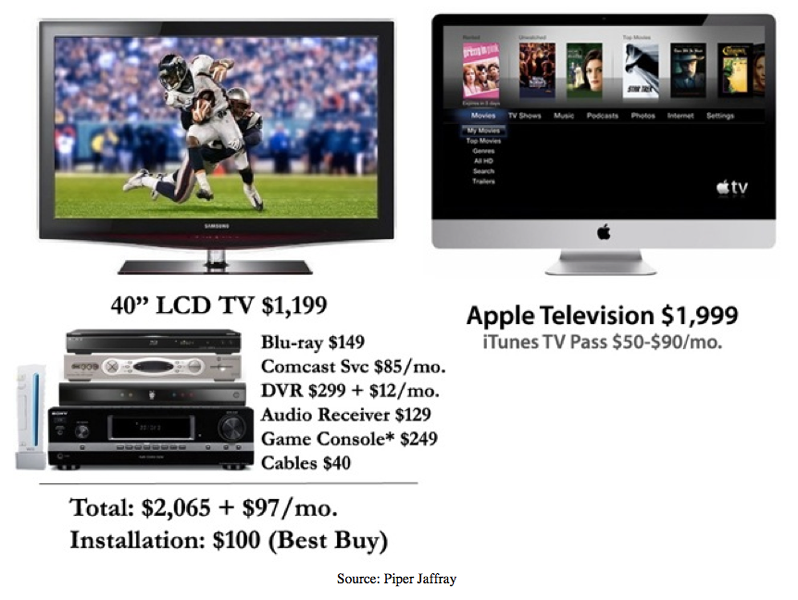 AppleInsider is supported by its audience and may earn commission as an Amazon Associate and affiliate partner on qualifying purchases. These affiliate partnerships do not influence our editorial content.
A new rumor claims Apple is readying an iOS-powered connected TV, possibly for release as early as this fall.
A former Apple executive, speaking anonymously, said the company plans to "blow Netflix and all those other guys away" by bundling Apple TV + iTunes inside a physical display, DailyTech reports. Apple is reportedly teaming up with a major supplier to provide the rebranded television sets, the source noted.
When questioned why an OEM would cut into its sales by providing Apple with units, the source said, "If you have to be competing with somebody, you want to be competing with yourself."
The tipster indicated a planned fall launch, while noting that the product could get pushed to next year because of Apple's "high standards." A fall launch could coincide with the launch of the next-generation iPhone, as well as iOS 5 and iCloud.
"You'll go into an Apple retail store and be able to walk out with a TV. It's perfect," the source said. According to the unverified report, the iOS-driven televisions would support third-party apps.
Rumors of an Apple Smart TV have existed for years, with Piper Jaffray analyst Gene Munster repeatedly forecasting the product. Munster has suggested that an Internet-connected TV from Apple may have a starting price in the range of $2,000.
In March, Morgan Stanley analyst Katy Huberty said Asian suppliers had told her Apple had built a Smart TV prototype. According to Huberty, an Apple-branded TV could add as much as $4 billion per 1 percent share of the TV market Apple is able to capture over the next two years.
Then, in April, Brian White with Ticonderoga Securities said "data points" from a China electronics trade show suggested Apple could launch an HDTV set possibly by the end of the year. "Our research suggests this Smart TV would go well beyond the miniature $99 second-generation Apple TV that the company released last fall and provide a full-blown TV product for consumers," White said.
Though Apple CEO Steve Jobs said last year that the Apple TV set top box product is "a hobby" for the company, sales of the $99 second-generation model have improved over the first-generation. After the company sold 250,000 units in the first six weeks of availability, Jobs said Apple was "thrilled" with the figures.
Apple went on to sell 1 million Apple TVs within three months of the device's launch. However, analysts have estimated that a million units per quarter would amount to a "fairly immaterial" $400 million in annual revenue.
Analyst Ming-Chi Kuo of Concord Securities said in April that Apple TV sales had reached 2 million, reportedly selling 820,000 units in the March quarter.