Apple's iPhone is top-seller at 58% of AT&T, Verizon stores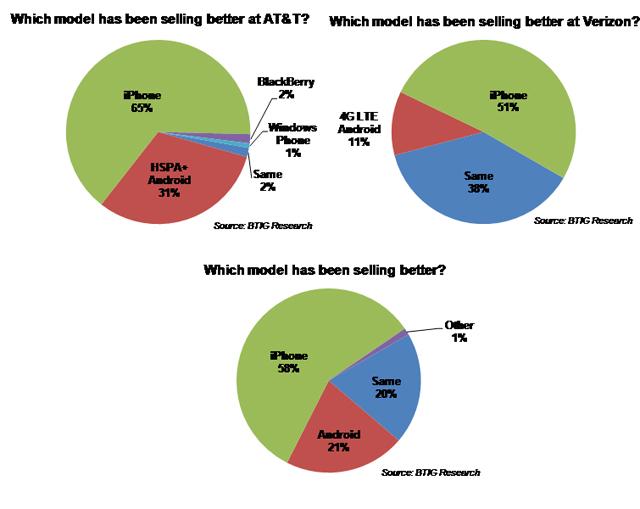 AppleInsider may earn an affiliate commission on purchases made through links on our site.
A new survey has found Apple's iPhone is the top-selling handset at 58 percent of responding AT&T and Verizon stores.
According to BTIG Research (via AllThingsD), the iPhone is also tied for first with an Android device at an additional 20 percent of Verizon and AT&T locations. To conduct the survey, BTIG called 250 stores around the U.S. over the past three weeks.
The iPhone was most dominant at AT&T, where 65 percent of stores said the device was their strongest selling phone. 31 percent of stores responded that Android was their best selling phone, with an additional 2 percent indicating that the iPhone and Android were tied. BlackBerry was the top-seller at just 2 percent of stores and only 1 percent of stores said a Windows Phone device was their top seller.
"At AT&T, there were actually a handful of stores that mentioned a BlackBerry and a Windows Phone as the top seller in their store. We never got that response from any of the Verizon stores, which have dated versions of the BlackBerry," said BTIG analyst Walter Piecyk.
At Verizon wireless, 51 percent of responding stores said their iPhone was the best-selling device. Another 38 percent said iPhone and Android were tied, and 11 percent said a 4G LTE Android phone performed better.
The iPhone 4 arrived on Verizon in February as the largest device launch in the carrier's history. Analysts suspect, however, that the launch was partially muted because customers hoping to switch are either locked in contracts or waiting for a new iPhone model.
According to a report earlier this month, HTC could briefly take the top spot on AT&T and Verizon this summer before Apple launches the iPhone 5. The handset manufacturer's Thunderbolt and Inspire 4G models are said to be the second most popular handsets at Verizon and AT&T respectively, behind only the iPhone 4. It has been suggested that Apple may have given the rival manufacturer a window of opportunity by not introducing a new iPhone in June as it has in years past.
Last month, retail checks by Canaccord Guenuity found that the iPhone 3GS and first-generation iPad continue to outsell some newer Android products. Some AT&T stores reported that the $49 Phone 3GS outsold newer handsets such as the HTC Inspire and Motorola Atrix.
Apple had record sales of 18.65 million iPhones last quarter, buoyed in part by 2.2 million iPhone sales on the Verizon network.