Apple adds TRIM support, graphics improvements in Mac OS X 10.6.8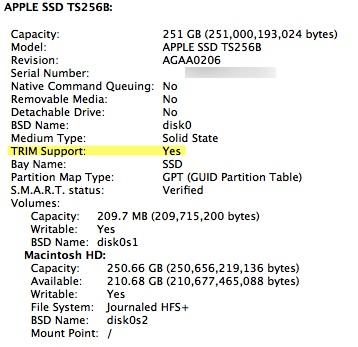 AppleInsider is supported by its audience and may earn commission as an Amazon Associate and affiliate partner on qualifying purchases. These affiliate partnerships do not influence our editorial content.
Apple has added TRIM support for all SSD-configurable Macs and fixes to improve graphics performance in the latest version of Mac OS X Snow Leopard.
Although Apple added TRIM in March to a custom build of Mac OS X 10.6.6 for Thunderbolt MacBook Pros, Mac OS X 10.6.8 marks the first time active SSD TRIM support is enabled across all SSD-capable Macs.
However, the new native TRIM support appears to be limited to stock Apple drives, as users with third-party SSDs installed have reported that the feature is not enabled by the update, according to a MacRumors report.
The TRIM command enables an operating system to optimize a solid state drive by cleaning up unused bits of deleted files. SSDs must be erased before being rewritten with new data, and also require housekeeping to avoid unnecessary erase/write cycles that would shorten the lives of the drives.
Apple had been preparing support for the feature in Mac OS X Lion for this summer, but apparently decided to bring the feature to Snow Leopard as well. Hints that Apple planned to include TRIM support for future Macs first emerged last year in SSD-equipped MacBook Pros.
Meanwhile, aset of benchmarks from MacsOnly shows the latest version of Snow Leopard to include graphics improvements that boost gaming performance. In particular, OpenGL received a substantial boost of as much as 48 percent, according to the graphics test.
Users have reported real-world improvements to the frame rates of various games after installing Mac OS X 10.6.8. The update appears to erase an intermittent issue with graphics performance that was affecting users of Mac OS X 10.6.7.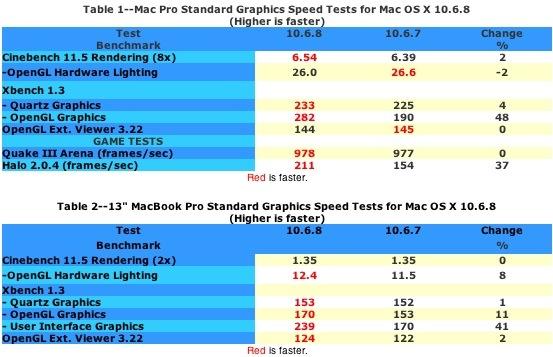 Mac OS X 10.6.8 arrived last week with enhancements to the Mac App Store in preparation for Mac OS X Lion. Other fixes in the update include: resolution of an issue with Preview, improved support for IPv6, improved VPN reliability, and the ability to identify and remove known variants of the Mac Defender malware.