Android device activations now exceed 500,000 per day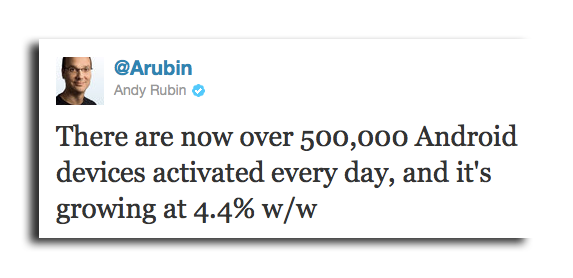 More than a half-million Android devices are now being activated every day, and the number is growing at 4.4 percent worldwide, the head of Google's mobile platform has revealed.
Rubin disclosed the numbers in a message posted on his official Twitter account Tuesday morning. Rubin is Google's vice president of engineering, the mastermind behind Android, and a former Apple engineer.
The numbers show the pace of activations for Android is growing rapidly. In December of 2010, Rubin revealed on Twitter that Google was then activating 300,000 Android devices per day.
Last October, in a surprise appearance on his company's quarterly earnings conference call, Apple Chief Executive Steve Jobs talked about Android and iOS activations. At the time, Google had said it was activating 200,000 Android devices per day, while Jobs revealed that Apple was activating 275,000 iOS devices each day with a peak of 300,000 on some days.
Since the iPhone first launched in 2007, Apple has sold more than 200 million iOS devices. iOS powers the iPhone, iPad and iPod touch, and is also found in the new Apple TV.
For some time now, sales figures have shown that sales of Android-powered devices, available in multiple form factors and configurations from numerous hardware makers, have moved ahead of the iPhone and iOS.
While Android has grown in market share, Apple's profit share has eclipsed the rest of the mobile industry. In fact, one recent analysis showed that Apple could buy rivals Nokia, Research in Motion, HTC and Motorola Mobility all at once with its estimated $70 billion in cash.
Apple has panned the Android platform as fragmented and inferior to its own integrated approach. Manufacturers such as Samsung and Motorola will install their own custom user interfaces on top of the Android mobile operating system to differentiate their devices on the market.
For its part, Google has countered by promoting Android as an "open" platform, free from the types of restrictions that Apple places on users of the iPhone and iPad. The Cupertino, Calif., company maintains strict control over the iOS App Store, and all software available for download on the platform must first be reviewed and approved.