Nielsen: Apple's iPhone growing, Android flat as smartphone sales surge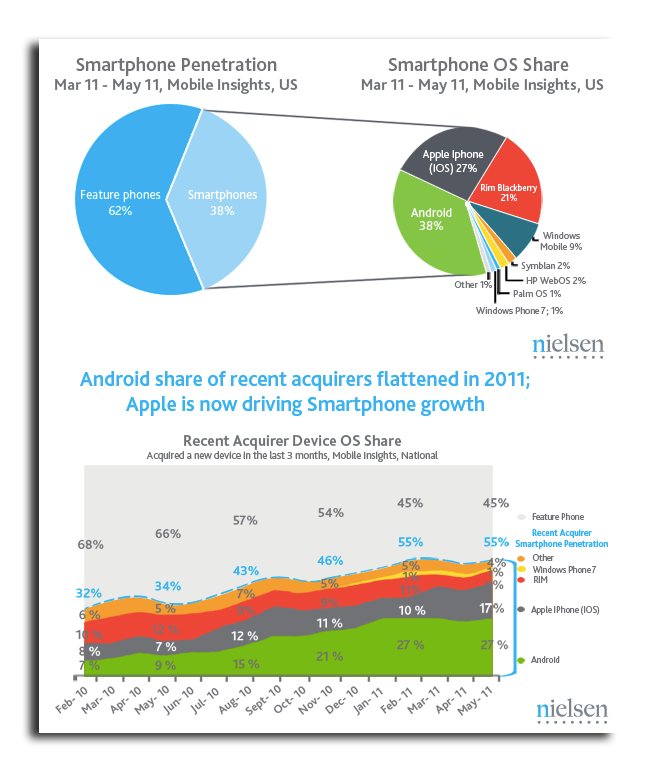 Smartphone sales in the U.S. have become a majority of new mobile phone sales, and Apple's iPhone is leading that growth while Android has plateaued, according to the latest data from Nielsen.
A May survey of mobile customers in the U.S., conducted by Nielsen and released on Thursday, found that 55 percent of consumers who bought a new handset in the last three months bought a smartphone instead of a "feature phone." It's the first time smartphone sales have represented a majority in the U.S., and is also a major increase from 34 percent a year prior.
While Google's Android platform was found to remain the most popular smartphone choice, representing a 38 percent share among those who own a device, Nielsen found that it's actually Apple's iPhone that's seen the most growth in recent months.
Among recent phone buyers, 17 percent opted for an iPhone, compared with 10 percent when the last survey was conducted three months prior. Android remains the market leader, but sat idle at 27 percent from the previous poll to the most recent one.
Together, the iPhone and devices running Android control the lion's share of sales in smartphone market, representing 44 percent of all phone sales, including feature phones. Behind them is Research in Motion, which held a 6 percent share of sales in the May poll, down from 11 percent in the previous survey.
Among those who already own an iPhone, Android's market-leading 38 percent share is followed by Apple and the iPhone at 27 percent. RIM's BlackBerry line represents 21 percent of the market, while Windows Mobile is a distant fourth with 9 percent.
In a previous poll released in February, Nielsen found that nearly a third of users own a smartphone, with the install base evenly tied between Apple, RIM and Android. And earlier surveys from the research company Previous Nielsen surveys found that women prefer Apple's iPhone, while men tend to desire an Android handset, while iPhone users download the most applications of any smartphone owners by far.