Apple targets four Samsung products with preliminary injunction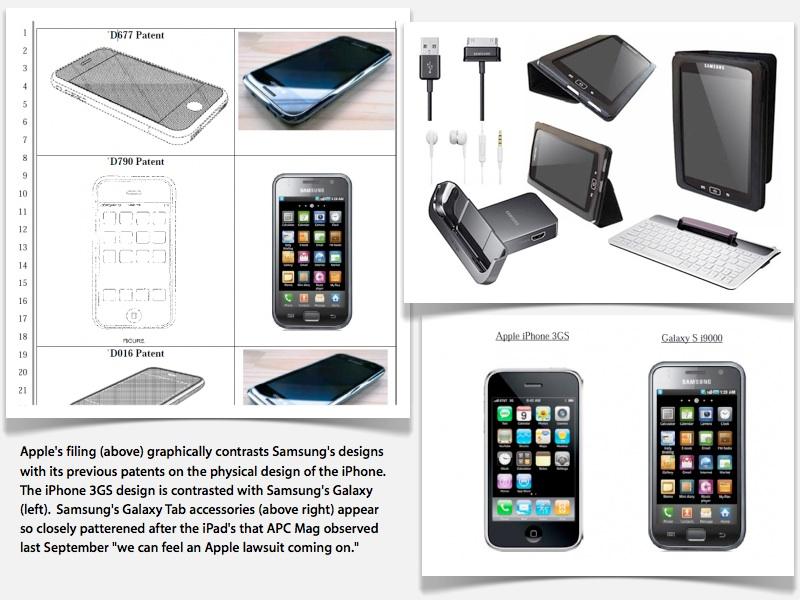 The ongoing saga between Apple and Samsung ratcheted up on Friday when the iPhone maker asked the U.S District Court in San Jose, Calif. to issue a preliminary injunction, potentially bringing a swift resolution to the legal dispute.
The filing, discovered by Florian Mueller of FOSS Patents, specifically accuses Samsung of violating three Apple design patents and one utility patent. Mueller described the motion as a risky "hole-in-one" attempt from Apple that could accelerate the case.
If granted, the injunction would require Samsung to remove the following four products from the U.S. market within the next few months:
Infuse 4G
Galaxy S 4G
Droid Charge
Galaxy Tab 10.1
"The message that Samsung conveys to consumerswith its imitative smartphone design is simple: "It's just like an iPhone." Samsung's Galaxy 10.1 tablet sends a similar message: "It's just like an iPad." With the benefit of those messages, Samsung is seeking to take market share by trading off of the popularity of Apple's products," Apple wrote in the request.
The Cupertino, Calif.-based company added that it was "limiting" the injunction to new Samsung products recently released in the U.S. and had left out the as-yet-to-be-released 'Galaxy S 2 Phone' and the 'Galaxy Tab 8.9 tablet'. However, Apple said that it "reserves the right to seek preliminary injunction against those two products as their release becomes imminent."
Apple maintained that it's other claims are "equally strong," but could potentially raise additional issues that would hold up the motion. "It's hard to imagine a more compelling case for issuing a preliminary injunction," the filing read.
Alongside the motion, Apple has filed a concurrent motion for an expedited trial on all of its claims. The company has asked for a court hearing for the preliminary injunction on August 5 and an expedited jury trial for the whole case in February 2012.
It appears that Samsung won't back down from Apple's latest filing. "We're going to actively protect and defend our intellectual property and our ability to provide consumers with innovative technology," company spokesman Kim Titus said.
The Korean electronics giant fired back at Apple this week with a request for an import ban of Apple's devices, including the iPhone and iPad. The company also asserted in a filing on Friday that it is competing with, not copying, Apple, accusing the iPhone maker of attempting to "avoid such competition."
Apple began its legal battle with Samsung in April when it sued the company, accusing the company of copying the iPhone and the iPad.Samsung quickly retaliated by launching its own lawsuit both in the U.S. and abroad, arguing that Apple had violated several of its patents, including "technology for tethering a mobile phone to a PC to enable the PC to utilize the phone's wireless data connection."
Since then the two companies have asked to see their competitors unreleased products. Apple asked for and was allowed access to the already announced Galaxy Tab 10.1 and 8.9, Galaxy S II, Droid Charge, and Infuse 4G. Samsung attempted the same maneuver, but was denied access to Apple's unannounced fifth-generation iPhone and third-generation iPad.
Recent reports suggest that the companies' legal battle could significantly affect their business relationship. While Apple is expected to be the Korean company's largest customer this year with orders for $7.8 billion worth of components, rumors claim that Apple is looking to cut "some, if not all, Samsung-made components" from its supply chain. In particular, Apple is rumored to be moving production of the next-generation A6 chip away from Samsung to Taiwan Semiconductor Manufacturing Company in 2012.