Apple releases iOS 4.3.4 to address PDF security hole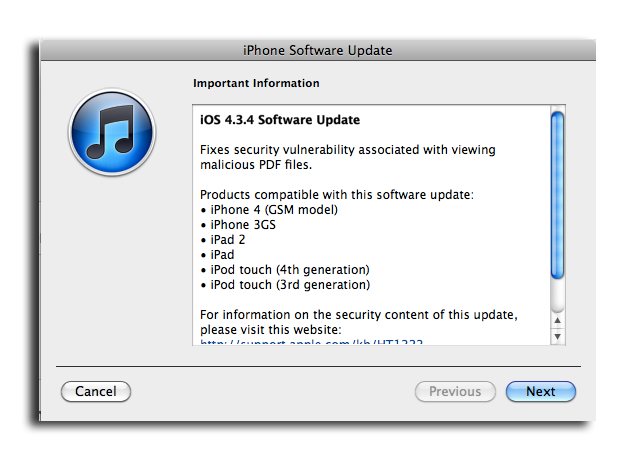 AppleInsider is supported by its audience and may earn commission as an Amazon Associate and affiliate partner on qualifying purchases. These affiliate partnerships do not influence our editorial content.
Apple on Friday released an update to its iOS mobile operating system for the iPhone, iPad and iPod touch, addressing a potentially dangerous security flaw related to viewing PDF files in the Mobile Safari Web browser.
iOS 4.3.4 can be downloaded and installed to any currently supported iOS-based devices by connecting to iTunes and choosing to update. Apple has characterized the latest software as a security update, and does not contain any new features or fixes.
The update is available for the GSM iPhone 4, iPhone 3GS, iPad 2, iPad, and third- and fourth-generation iPod touch. Another firmware, iOS 4.2.9, is also available for the CDMA iPhone 4 for Verizon users.
The update comes just over a week after Apple announced it would release a fix for the security flaw, and less than 10 days after the issue was given widespread attention.
The update plugs a hole that could allow a hacker to utilize a maliciously crafted PDF file to gain access to a user's system. Visiting a site with this exploit could lead to unexpected application termination or arbitrary code execution.
Apple said this is because a buffer overflow exists in FreeType's handling of TrueType fonts, and a signedness issue exists in FreeType's handling of Type 1 fonts.
The update also reportedly contains a patch for iOS's IOMobileFrameBuffer. Apple said the new software addresses an invalid type conversion issue, which could allow malicious code running as the user to gain system privileges.
The PDF exploit became known last week, after hackers utilized it to offer a browser-based "jailbreak" of iOS devices. "Jailbreak" is the term used to describe exploiting flaws in iOS code to allow users to run software that is not approved by Apple.
While those behind the jailbreakme.com site did not create it with malicious intent, it's possible that a more nefarious hacker could release an exploit that, when visited by a user, could allow unsigned code to be run on an iPhone or iPad without the user's permission or even knowledge.