Apple's new Minis and Airs benchmark twice as fast as predecessors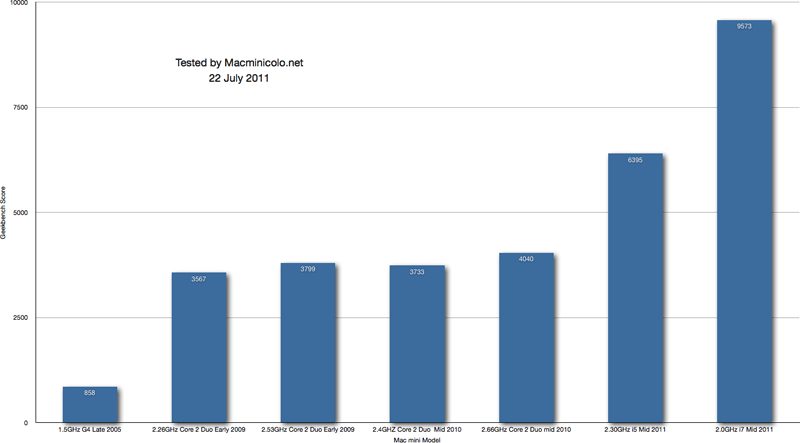 Apple's new line of Mac Minis and MacBook Airs launched Wednesday are not only strikingly faster than their predecessors in raw processor and memory performance, but in some cases rival premium-priced Macs that made their debut just one year ago for more than twice the cost.
Macminicolo, which received both the server and baseline Mac Mini models, proclaim that the new desktops "are absolute screamers."
The entry-level 2.3 GHz Core i5 model soars 50% to a Geekbench score of 6395 when compared to its predecessor, while the top of the line 2.0 GHz i7 model provides an even more monumental performance with a score of 9573, roughly doubling last year's models. Â
The latest Mac Minis start at $599 — a $100 reduction from the previous generation's entry point — and have controversially parted with optical drives while gaining a ThunderBolt port and an upgrade from Intel's Core 2 Duo chips to its latest Core i5 and i7 ultra-low-voltage processors.
Meanwhile, benchmarks for Apple's new line of Macbook Airs supplied by Laptop Magazine (via Electricpig) highlight momentous performance increases when compared to the previous generation. Testing showed the new 13-inch Macbook Air registered a Geekbench score of 5860, outperforming its predecessor by 100%, while the 11-inch MacBook Air's score rose an incredible 149% from 2024 to 5040.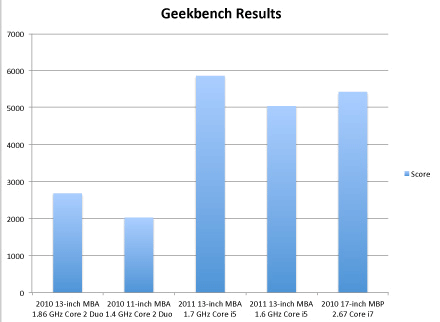 The latest benchmarks for the new notebooks are noteworthy given that the 11.6-inch Air, which starts at $999, put up a score that rivals the 5423 registered by last year's top-of-the-line, $2499 17-inch MacBook Pro.
It should be noted that Geekbench scores machines based on their raw processing and memory performance, which may or may not translate to real-world performance that takes into account different variables in each situation.