Alleged 'iPhone 5' case shows larger home button area, curved sides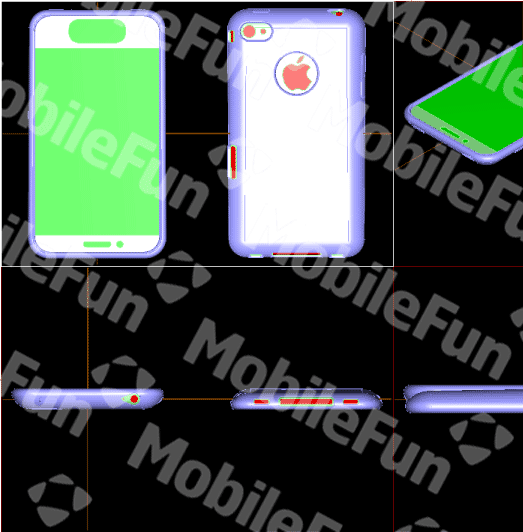 AppleInsider may earn an affiliate commission on purchases made through links on our site.
A schematic claimed to be for a case for Apple's anticipated fifth-generation iPhone shows a larger area for the home button, a slightly larger screen, and the return of curved sides like on the iPhone 3GS.
The documents allegedly come from a Chinese case manufacturer, and were obtained by MobileFun.co.uk (via Cult of Mac). They show a design with curved sides, similar to iPhone models released before the current iPhone 4.
On the front, the case appears to have a larger, oval-shaped opening for where the device's home button would go. That could lend support to rumors from earlier this year that Apple's next-iPhone would feature a multi-touch "gesture area" in place of the current home button.
That same report also predicted that Apple's next iPhone would have a slightly larger 3.7-inch edge-to-edge screen. The images that claim to show a so-called "iPhone 5" case also suggest that the device may have a larger screen.
The photos show the handset's volume buttons and SIM card slot in the same place, but also show placement of the vibrate switch on the opposite side.
The case also suggests the device will feature an unmoved LED camera flash, which would contradict purported fifth-generation iPhone parts (1, 2), which leaked in May and suggested the camera lens and flash would be moved further apart to improve picture quality. Separating the camera flash and lens can reduce the red-eye effect seen in photographs.
The alleged schematic would contradict other rumors that the next iPhone will have a design largely similar to the current iPhone 4, with one of the biggest changes being a new, higher-resolution 8-megapixel camera and the addition of the A5 processor. Some reports have characterized the device as an "iPhone 4S," in references to the alleged minor changes.
Though the next iPhone will arrive later than usual this year, reports from Apple's supply chain have been picking up, indicating that the company is preparing to begin mass production of the next-generation device. Last week, during the company's quarterly earnings conference call, Apple executives revealed that an unnamed major product transition is in the cards to take place by the end of September.