Apple TV update adds support for buying, streaming iTunes TV shows [u]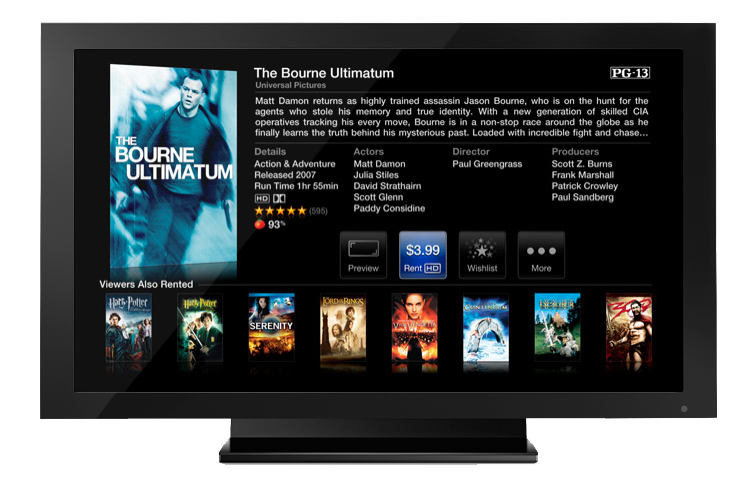 Apple on Monday updated its Apple TV set-top-box, adding the ability to purchase TV shows from iTunes and stream shows that have already been purchased, and also adding the ability to re-download TV shows through iTunes [updated].
Users can download and install the update directly from their latest-generation Apple TV. New features of the update, according to Apple, are:
iTunes TV Shows: Purchase your favorite TV shows directly from the iTunes Store, and watch the shows you already own, commercial-free in HD.
Vimeo: Browse and play videos from Vimeo, access your video inbox, and mark videos you want to watch later.
Update: In addition, users can also re-download TV shows via Apple's iCloud service through the iTunes desktop software, or iTunes on iOS devices. A new "TV Shows" section shows up as a tab in the "Purchased" section of the iTunes Store.
Released in 2010, the new Apple TV represented a shift for the company, as it pushed studios to allow 99 cent rentals of TV shows, rather than costlier permanent purchases. But some studios have been reluctant to participate, calling Apple's 99-cent model too inexpensive.
Apple's latest update would seem to circumvent those issues, allowing users to watch shows they already own and buy new content. It's also a departure from the rental-only approach first attempted with the new Apple TV.
However, even with the changes, major U.S. broadcast networks CBS and NBC are not listed under the "TV Networks" section of the Apple TV. Fox and ABC remain the only two of the "big four" that are listed on the device.
The last Apple TV update was issued in May, with version 4.2.2 offering a handful of minor fixes. it addressed issues with audio and video playback, including a setting allowing users to switch to 16-bit audio for compatibility with some TVs and AV receivers.
Last week, AppleInsider revealed that Apple has been selling a half million units of its set-top-box since the device launched late last year. Though sales of the Apple TV are much higher than other similar devices, Apple has famously referred to the relatively niche product as a "hobby," as it doesn't command nearly the kind of sales or attention as a product like the iPhone.