iPad competitors still can't match Apple's design efficiencies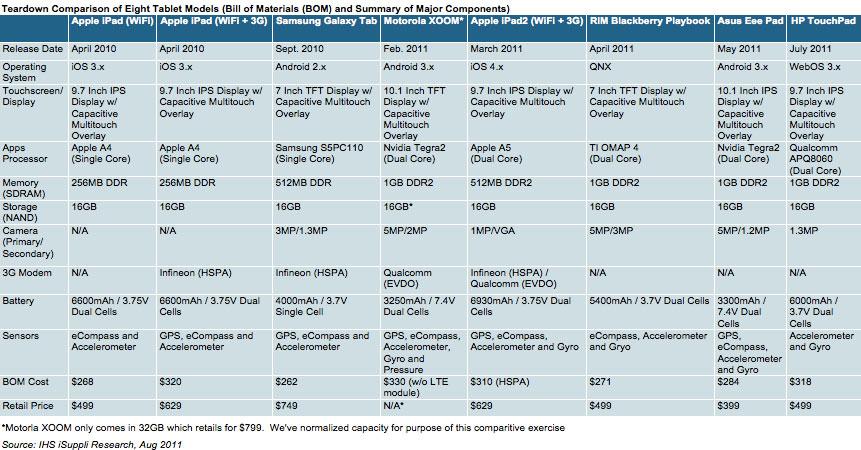 AppleInsider may earn an affiliate commission on purchases made through links on our site.
As hardware makers struggle to compete with the iPad in terms of sales, they also can't match Apple's design efficiency, which helps to keep the iPad's costs down, one analysis has found.
IHS iSuppli this week revealed the results of its teardown analysis of eight different tablet models. They found that Apple's control of the iOS operating system allows it to reduce costs by limiting memory quantity and utilizing thinner batteries.
The iPad 2, for example, features just 512 megabytes of SDRAM, which is half the 1 gigabyte found in most competing tablets. That memory density reduction affords Apple a nearly $14 reduction in the build of materials for the iPad 2 compared to other tablets.
By controlling iOS, Apple can ensure that its proprietary mobile operating system features efficient memory usage, and allows the company to build a device with less RAM.
"Since Apple controls both the operating system and hardware design of the iPad, it is able to attain design efficiencies that other tablet manufacturers cannot," said Wayne Lam, senior analyst of competitive analysis at IHS. "These efficiencies become obvious in areas like the memory and the battery, where Apple maintains advantages in cost, space savings and performance compared with every competitor in the business."
Included in the comparison were three iPad models from Apple: both the first-generation Wi-Fi-only and 3G models, as well as the 3G-capable iPad 2. Also tested were the 7-inch-class Samsung Galaxy Tab and RIM BlackBerry PlayBook; while around the 10-inch screen size were the Motorola Xoom, Asus Eee Pad, and HP TouchPad.
Most tablets that compete with the iPad come from blueprints and reference designs outsourced to third parties. But Apple maintains tight control of the design of its devices, as well as components and contract manufacturers.
"Apple takes a vertically integrated approach to its products, from the operating system to the user interface, to the hardware design, down to the selection of individual parts used in the device," Lam said. "For example, Apple even uses its own applications processor design in both the iPad and iPad 2.
"In contrast, Android tablet makers buy those capabilities from the likes of Nvidia, Texas Instruments and Qualcomm. This gives Apple greater control in multiple areas of product development."
The analysis noted that Apple has sent all of the trends in the tablet market, forcing manufacturers to gravitate toward the $500 "sweet spot" for pricing. And while early competitors embraced the 7-inch form factor, a decision which Apple Chief Executive Steve Jobs derided, they have since moved toward the same size range as the 9.7-inch screen on the iPad.