Best Buy upset with HP over selling just 25K TouchPads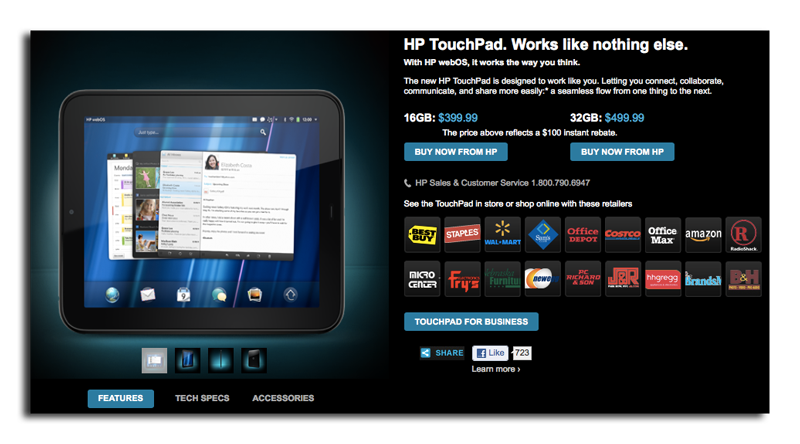 AppleInsider is supported by its audience and may earn commission as an Amazon Associate and affiliate partner on qualifying purchases. These affiliate partnerships do not influence our editorial content.
Best Buy is reportedly unhappy with HP after having sold just 25,000 of the PC maker's TouchPad tablets and is unwilling to pay for the more than 240,000 unsold units, according to a new report.
Multiple sources who have seen internal HP reports have told Arik Hesseldahl of AllThingsD that big-box retailer Best Buy took delivery of 270,000 TouchPads and has only managed to sell less than 10 percent of its inventory. One source suggested that the 25,000-unit sales number may even be "charitable" because it doesn't take returns into account.
According to the report, Best Buy has refused to pay for the remaining tablets and has asked that HP take them back. But, HP has reportedly pleaded with the retailer to be patient. One tipster claimed that a senior HP executive will soon travel to Minneapolis to smooth things over with Best Buy executives.
The world's largest PC maker is scheduled to report its quarterly earnings on Wednesday. Should the company choose to report TouchPad sales, it may call out the tablet's "channel sales," which would include the full 270,000 devices shipped to Best Buy, rather than the lower "sell through" figure, which would likely spook investors.
Best Buy and HP declined to comment on the report.
Envisioneering Group analyst Rich Doherty said other retailers such as Wal-Mart, Microcenter and Fry's are seeing spotty sales of the TouchPad as well. He added that HP's recent $100 price cut has actually backfired by prompting customers to wait for further discounts.
"After the initial surge of interest after the July release, all those price promotions have caused consumers interested in buying a TouchPad to pause because they think the price is going to fall further," Doherty said.
HP released the TouchPad in July to middling reviews, which called it a "mediocre tablet." Former Palm chief John Rubinstein jumped to defend the device and webOS, comparing the platform's shaky start to the early days of Apple's Mac OS X.
Just one month after the tablet's release, HP slashed the price of the device by $100. Days later, a company executive announced that the sale price would remain permanent.
Muted interest in the TouchPad stands in stark contrast to Apple's success with the iPad 2, which went on sale in March. In April, the company reported experiencing the "mother of all backlogs" with the second-generation iPad, adding that it was selling every unit it could make. Tight supply of Apple's touchscreen tablet continued through July, when ship times for the device finally improved to estimates of 1-3 days, down from as long as 4-5 weeks. In the June quarter, Apple sold 9.25 million iPads.