HP makes $100 TouchPad price cut permanent in bid for No. 2 tablet spot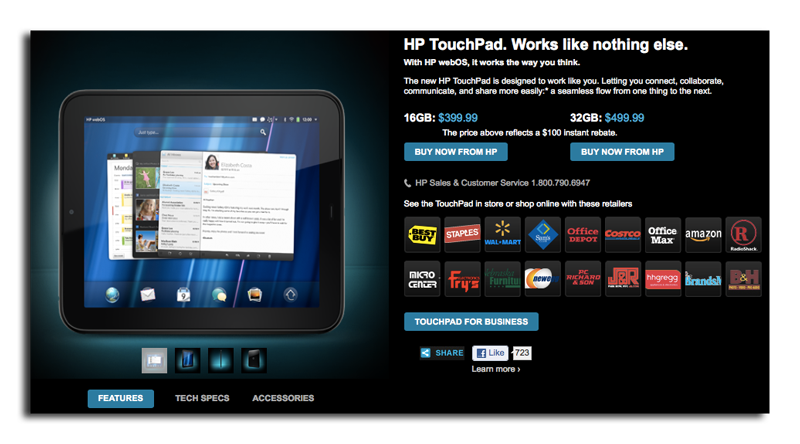 After receiving positive response to a temporary $100 price cut on its webOs-based TouchPad tablet, HP has decided to make the discount permanent as it aims for the No. 2 spot in the tablet market, behind Apple's iPad.
HP Senior Vice President Stephen DiFranco issued an email announcing the price cut would take effect immediately, "enabling both HP and [its] channel partners to be even more price competitive in the marketplace," as noted by This is my next. The 16GB Wi-Fi TouchPad is now priced eat $399.99 and the 32GB version at $499.99.
According to the executive, the price drop will supersede any other discounts, such as a current $50 instant rebate offer in the U.S. Early adopters who purchased the TouchPad before the discount will be eligible for a $50 credit toward applications in the device's App Catalog.
DiFranco also highlighted the fact that HP released the first over-the-air update for webOS 3.0 last week in North America and Europe. The update resolves a number of issues that the device launched with and is the first of a "steady stream of improvements to optimize TouchPad performance."
The company launched the sale over the weekend, just one month after the device's release. HP has yet to release sales numbers for the tablet, but industry watchers suspect that it has performed worse than expected.
Early reviews of the TouchPad, which features a 9.7-inch touchscreen and a Qualcomm Snapdragon dual-core 1.2GHz processor, characterized it as unfinished and "mediocre," though they did praise the webOS interface as "attractive and different."
HP executive Jon Rubenstein responded to the negative reviews by comparing webOS to Mac OS X, quoting early reviews of Apple's software that called it "sluggish," lacking "quality apps," and "just not making sense."
"It's hard to believe those statements described Mac OS X — a platform that would go on to change the landscape of Silicon Valley in ways that no one could have imagined," he said in a letter to employees, adding that webOS has the "potential for greatness."
HP has said that its goal is to take second place in the tablet market, rather than compete with Apple for the top spot. "We think the world of Apple and have the utmost respect for their products," said vice president Richard Kerris. "It would be ignorant for us to say that we are going to take it [the market] away from Apple."
Analysts have warned that iPad competitors are having trouble keeping costs down because they can't match Apple's design efficiency. IHS iSuppli estimates that the bill of materials for the 16GB Wi-Fi TouchPad runs $318, compared to an estimated BOM of $310 for the iPad 2 3G. Forrester analyst Sarah Rotman Epps said on Tuesday that iPad competitors may stand a better chance in Europe, while noting that they will need to cut their prices in order to take on Apple.
Apple itself has indicated that it was "purposefully aggressive" in pricing the iPad, which has lower profit margins than the iPhone.
"Our potential competitors [in tablets] are having a tough time coming close to iPad's pricing. iPad incorporates everything we've learned about building high value products," Apple CEO Steve Jobs said last October. "We create our own A4 chip, software, battery chemistry, enclosure, everything. This results in an incredible product at a great price. The proof will be in the pricing of our competitors' products, which will offer less for more."