HP exec: TouchPad not aimed at dethroning Apple's iPad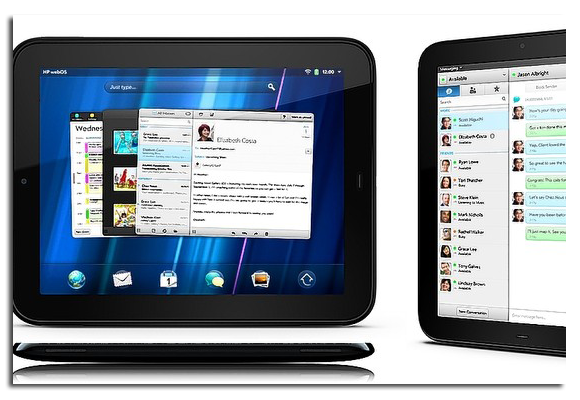 An HP executive said Thursday that the TouchPad tablet is not meant to take the market away from the iPad and is instead aimed at the enterprise, while a new report claims Apple is set to overtake HP next year as the world's leading portable PC vendor, if iPads are taken into account.
Richard Kerris, HP's vice president of Worldwide Developer Relations, said in an interview with The Loop that the company doesn't see itself as being in a direct confrontation with Apple over tablets.
"We think there's a better opportunity for us to go after the enterprise space and those consumers that use PCs," he said. "This market is in it's infancy and there is plenty of room for both of us to grow.
"We think the world of Apple and have the utmost respect for their products," he continued. "It would be ignorant for us to say that we are going to take it [the market] away from Apple."
The 9.7-inch TouchPad is set to launch Friday starting at $499. Early reviews of the device called it "mediocre" and "no match for the iPad 2," though they praised the tablet's attractive form factor and webOS's potential.
The company's non-aggressive strategy with the iPad takes a different tack from other tablet competitors. For instance, Motorola's ads for its Android-based Xoom tablet have portrayed iOS users as drones, while Research in Motion marketed its BlackBerry PlayBook tablet with the slogan "Amateur hour is over."
HP's entry into the tablet market has been much-anticipated because the company, much like Apple, developed both the software and hardware. WebOS was a "prized asset" acquired by HP last year when it bought Palm for $1.2 billion.
The world's largest computer maker touts webOS as being "built from the ground up for the Web." The TouchPad's Synergy feature, which coordinates multiple calendar, contact and photo accounts, is billed as a "true cloud initiative that's functioning today." Kerris pointed to the tablet's ability to operate in the cloud from day one and just work "out of the box" without being connected to a PC as evidence of HP's innovations.
When questioned about negative reviews of the device, Kerris said the issues would be fixed with over-the-air updates. "As long as you have a plan, you'll be fine," he said.
Even as HP has declined to say it will take away the consumer tablet market from Apple, a new report suggests the Cupertino, Calif., Mac maker will soon dethrone HP as the leading global portable PC vendor.
Citing industry sources and market research firms, DigiTimes projected Apple will ship a combined total of 75 million notebooks and tablets in 2012. By comparison, HP is expected to ship 45-50 million notebooks in 2011 and is not believed to be able to compete with Apple for the top spot in 2012.
More specifically, the report speculates that Apple will ship 40 million iPads in 2011 for a 60 percent share and 60 million units in 2012 with a 75 percent share. Additionally, Apple is said to ship 15 million MacBooks in 2012. By way of reference, the company sold 3.76 million Macs in the March quarter, a 28 percent increase year over year.
Last year, analysts noted that reclassifying the iPad as a PC would push Apple past rival makers to give the company the top spot among computer manufacturers in the U.S.
Apple will untether the iPad from the PC later this year with the release of iOS 5. The next major upgrade to Apple's flagship mobile operating system has been designed with a "PC-free design" and should allow the company to eliminate the PC or Mac requirement currently designated for the iPad and iPad 2.
"Perhaps iOS 5's paramount feature is that it's built to seamlessly work with iCloud in the Post PC revolution that Apple is leading," said Apple CEO Steve Jobs earlier this month.