Apple accused of selling refurbished iPhones as new in China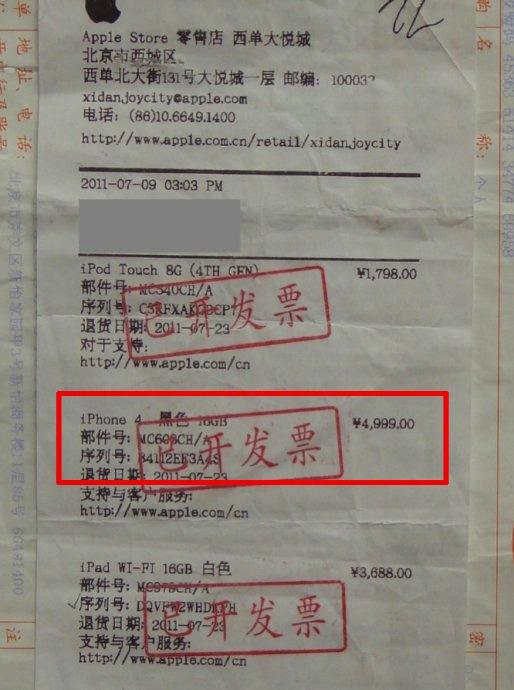 A well-known consumer rights advocate in China has filed two lawsuits against Apple after customers reported purchasing iPhone 4s from Beijing Apple Stores only to discover their warranties were for less than a year, prompting allegations that the handsets were refurbished.
Wang Hai, known for his 15-year crusade against counterfeit goods in China, delivered indictments against Apple earlier this week, citing the country's "Consumer Protection Act," the Global Times reports.
According to the report, at least six consumers who purchased iPhones in Apple Stores or from authorized dealers in Beijing report that their registered warranties are less than the one year promised by Apple. The shortened warranties have prompted allegations that Apple sold returned or refurbished iPhones to the customers.
Wang has documented the cases of two customers who each purchased new iPhone 4 handsets on at the Xidan Joy City Apple Store in Beijing on July 9. When the customers went home to register their smartphones on Apple's website, they discovered that the deadlines for their devices were listed as January and April of next year, three to six months less than the standard one-year warranty.
Apple warranty shows January 2012 expiration date
Some of the customers were offered new iPhones from the Apple Store to resolve the issue, although another consumer reported that the staff "tried to trick her" by extending the date of the warranty.
"It's cheating to sell refurbished products as new ones," Wang said. "It'll be discrimination against Chinese consumers if the case turns out to be true as refurbished cellphones are also sold in other countries, but at a cheaper price."
"It's impossible that we sold refurbished cellphones," said one Chinese Apple Store employee, who refused to give further comments to the reporter. Apple's Chinese public relations office has yet to respond to requests for comment.
The plaintiffs are demanding compensation twice the amount they paid plus legal fees, as well as an apology. The China Consumers Association has said it is paying attention to the cases.
A recent report from southern China discovered that secondhand iPhones were being refurbished and sold in the area's chain stores. Insiders alleged that store employees sometimes repackaged display phones or used devices to sell to customers after "polishing them up."
The lawsuits threaten to undermine confidence in Apple's official retail stores at a time when unauthorized Apple Stores are facing scrutiny. In July, one American blogger published an account of a knockoff Apple Store in Kunming, China. The report sparked a government inquiry that resulted in the closure of a number of unauthorized vendors selling Apple products.
Counterfeit Apple store in China | Credit: BirdAbroad
The most notorious of the counterfeit retail stores recently changed its name to "Smart Store," as noted by mobiSights. Numerous other stores have had to remove or cover unauthorized Apple logo signs.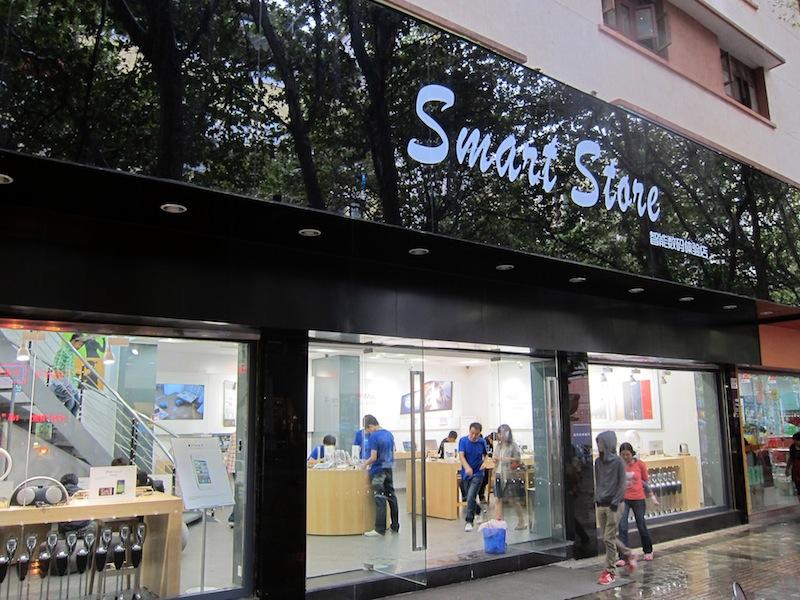 The counterfeit Apple Store has been rebranded as "Smart Store." | Credit: mobiSights
Apple has in recent years brought its full focus to bear on China. The company posted impressive sales growth of 600 percent year over year in the June quarter. The Greater China region contributed roughly 13 percent of Apple's revenue last quarter.
"This has been a substantial opportunity for Apple, and I firmly believe we are just scratching the surface right now," Apple COO Tim Cook said. "I believe there is an incredible opportunity for Apple there."
The iPhone maker's success has largely been an anomaly for foreign companies entering the Chinese market, given that numerous multinationals have tried and failed in the world's most populous country.