Apple's iOS unaffected by malware as Android exploits surge 76%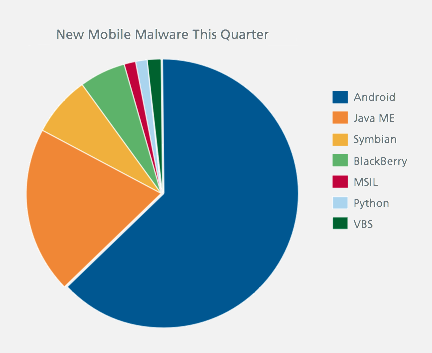 A new study has found that iOS remained untouched by malware during the second quarter, while Android faced 76 percent more threats than in the first quarter, making it the most targeted mobile platform.
McAfee detailed the information in its Second Quarter 2011 Threats Report, noting that the "threat landscape of 2011 is undergoing a year of chaos and change," as noted by MacNN.
Google's Android platform jumped from being the third-most targeted platform for mobile malware in the first quarter to taking the number one spot with 44 cases of malware. Java ME, the second-most targeted platform, had one-third the volume with just 14 exploits.
"This increase in threats to such a popular platform should make us evaluate our behavior on mobile devices and the security industry's preparedness to combat this growth," the report said.
Several security firms warned early this month that Android has become increasingly susceptible to attack, while at the same time noting that Apple's platform is relatively more secure than its rival. In June, Symantec issued a report that found iOS to have "full protection" against malware attacks, while Android was characterized as having "little protection."
McAfee did note that Apple's Mac platform has faced a threat from a fake anti-virus malware called MacDefender. The firm speculated that such attacks would eventually make their way to the iPhone and iPad, calling it a "case of "when" rather than "if.""
In addition to Apple's iOS, HP's webOS was the only other mobile platform to avoid any attacks, though the platform's inability to attract user interest may explain the lack of malware.
Intel surprised Wall Street by purchasing McAfee last year for $7.68 billion. The world's largest chipmaker has expressed an interest in implementing security features at the chip level with the help of McAfee.