Apple continues to gain US smartphone share as iOS hits 27%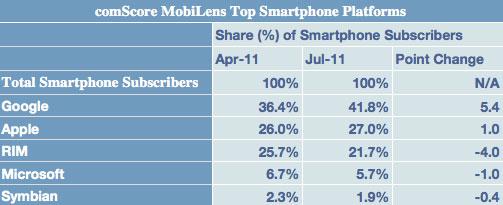 Apple's stateside share of the smartphone market continued to grow last quarter, with the iPhone representing 27 percent of the domestic mobile operating system market.
It was a 1 percentage point change from Apple quarter over quarter, with iOS increasing from 26 percent in the April quarter of 2011, according to the latest data from comScore. Apple's gains came at the expense of Research in Motion (down 4 points), Microsoft (1 point) and Symbian (0.4 points).
The only other gainer among the top five smartphone platforms was Google's Android, which saw 5.4 percentage point growth quarter over quarter, easily outpacing Apple. Android now represents 41.8 percent of smartphones in the U.S.
comScore said 82.2 million people in the U.S. owned smartphones during the three months that ended in July 2011. That's up 10 percent from the preceding April quarter.
In terms of hardware manufacturers for both smartphones and regular cell phones, Samsung was tops with 25.5 percent share, up 1 point from the April quarter. Apple was the only other gainer in the top five, growing 1.2 points from the previous quarter to 9.5 percent of total mobile subscribers. Apple only competes in the smartphone market, while Samsung also makes traditional cell phones.
Among hardware vendors, LG was flat at 20.9 percent, Motorola dipped 1.5 percentage points to 14.1 percent, and RIM slid 0.6 points to 7.6 percent.
For the three-month span ending in July, there were 234 million Americans ages 13 and older using mobile devices. comScore's study surveyed more than 30,000 U.S. mobile subscribers for its latest MobiLens report
comScore first reported in January of this year that Android had passed the iPhone in total U.S. subscribers for the first time. At the time, RIM was the market leader with 33.5 percent of the U.S. market, but the BlackBerry maker has quickly plummeted to third place, now well behind Android and iOS.
Apple's smartphone presence consists solely of the iPhone, while handsets running Google Android are represented by a number of manufacturers and many more devices. comScore's data represents devices actively being used rather than current sales figures.