Apple already using Web-based iOS diagnostics, could eliminate trips to store [u]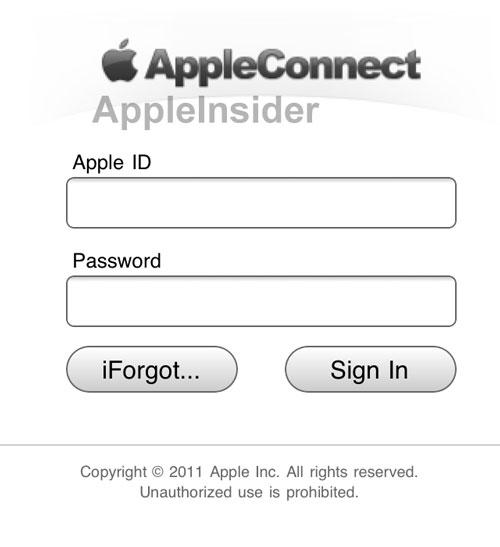 AppleInsider is supported by its audience and may earn commission as an Amazon Associate and affiliate partner on qualifying purchases. These affiliate partnerships do not influence our editorial content.
While reports claim Apple is looking to remotely address iPhone and iPad issues with a Web-based service, the company is already utilizing the same technology for some repairs conducted in its retail stores, AppleInsider has learned [updated with more information].
A person familiar with Apple's retail operations revealed that the company has already been using the site iosdiags.apple.com for repairs at many retail locations. Users can visit the site on their iOS device to launch the Web application, where they are asked for an Apple ID.
When the site is run from a customer's device, the results are said to be sent back to the MobileGenius software used in-store by Apple's Genius representatives. The data can also be read from the desktop iRepair software to which Geniuses have access.
The Web application, which runs in the Mobile Safari browser, can reportedly detect iOS software version, hardware battery health, any application crashes or system hangs, unexpected restarts, improper shutdowns, dropped calls, modem resets and more. This person also said the software can detect whether a user has "jailbroken" their iOS device, allowing it to run unauthorized code in a potentially warranty voiding process.
Update: A second person came forward to clarify how the process works. A Genius reportedly goes to the iOS diagnostics site and obtains a 5-digit session number. The customer then opens the Mobile Safari browser on their iOS device and visits "diags://session_id" and agrees to the terms of service. A Genius can then see the results on their device.
Currently, the Web application only works with an employee Apple ID and is not connected to an iTunes account. The data culled from the service reportedly provides an Apple Genius with the same information they would obtain plugging in an iPhone at the Genius Bar with a USB cable.
The system was said to have been put in place to make it easier to conduct mobile appointments away from the Genius Bar, in an effort to make it less crowded, AppleInsider was told. Using this tool in-store allows an employee to access diagnostic information wirelessly and quickly.
But the iOS diagnostics page can also be accessed from outside of Apple's servers on an iOS device, potentially paving the way for representatives to obtain diagnostic information from users remotely, such as during a telephone support call.
In this manner, an Apple representative could obtain vital information regarding a person's iPhone and potentially diagnose and fix a problem easily and remotely. This way, lesser problems that are easier to fix could be done without the need to schedule a Genius Bar appointment at a local Apple Store, or without returning an iPhone to Apple for repair.
Apple's iOS diagnostic tool apparently already utilized in its retail stores appears identical to details in a report from earlier Wednesday, in which HardMac said that Apple has internally announced a new remote diagnostic tool. The information could suggest that Apple plans to expand its current Web-based application, now in use at some retail stores, and expand it for remote use, such as telephone-based support.