Apple's iPhone 4 ship times slip ahead of iPhone 5 debut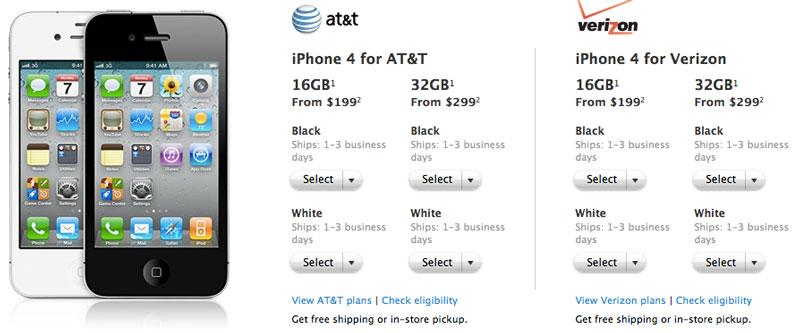 AppleInsider may earn an affiliate commission on purchases made through links on our site.
All new iPhone 4 orders in the U.S. now take one to three business days to ship through Apple, a sign that the company is running low on inventory ahead of introducing its fifth-generation model.
Previously, orders of the iPhone 4 for both AT&T and Verizon shipped within 24 hours. That fast turnaround applied to both black and white models, in capacities of 16GB and 32GB on both carriers.
But as of Thursday, AppleInsider discovered that the iPhone 4 now takes one to three days to ship direct from Apple, for all colors, capacities and carriers.
Similarly, the $49, 8GB iPhone 3GS, only available through AT&T in the U.S., also takes one to three business days to ship. The same applies for those who want to buy the unlocked GSM iPhone 4.
Lengthening shipping times are often an indication that Apple is running low on inventory ahead of a product refresh. For example, in February MacBook Pro shipments slipped to three to five days immediately before new models were introduced.
However, while shipping times for the iPhone 4 have slowed in the U.S., abroad they still have a 24-hour turnaround time. For example, in the U.K. and France, new orders still ship within a day of being placed.
Last year, the iPhone 4 debuted in the U.S., France, the U.K., Germany and Japan, before quickly expanding to other countries. In its first three days of availability, the iPhone 4 sold 1.7 million units.
This year's introduction of a fifth-generation iPhone will come with a later-than-usual launch date, as Apple in years past has released a new iPhone in the months of June or July. Apple is widely expected to host an event in the coming weeks to introduce the so-called "iPhone 5" ahead of an anticipated October launch.
The updated handset is expected to include a new, higher resolution 8 megapixel camera, as well as the high-speed A5 mobile processor currently found in the iPad 2. Rumors have been split as to whether the fifth-generation iPhone will sport an all-new design or one similar to the iPhone 4.