Apple's MacBook Pro ship times slip to 3-5 days ahead of refresh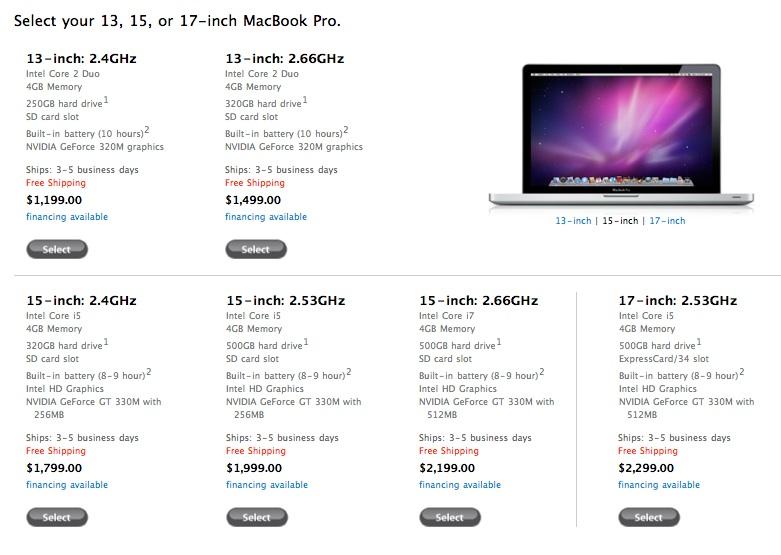 AppleInsider may earn an affiliate commission on purchases made through links on our site.
On the heels of of an imminent update to Apple's MacBook Pro lineup, Apple has bumped ship times for all US orders of its line of professional notebooks to three to five business days.
On Sunday, reports emerged that Apple had issued strict warnings to dealers not to open sealed pallet shipments that could arrive as early as Monday.
Further evidence that the secretive shipments could contain a significant update to Apple's MacBook Pros came late Sunday when the Mac maker began delaying shipping times for online U.S. orders of the notebooks from the usual 24 hour window to an estimate of three to five business days. Apple usually reserves this kind of across-the-board shipping delay for imminent new product releases.
Placeholder SKUs for new Apple-branded computers discovered Sunday in the Best Buy inventory system appeared to further corroborate the pending upgrade. Five models were listed on the electronics reseller's Laptop Configuration tool ranging in price from $1,199 to $2,499.
Last week, AppleInsider exclusively reported that sources indicated a major product launch from Apple could come as early as next week, even as inventory of existing MacBook Pros has dwindled in recent weeks.
AppleInsider has also been told that overhauled MacBook Pros are already in production and are expected to begin shipping in early March. Separate reports have independently suggested a March 1 launch date for the new notebooks.
Apple's upgraded professional notebooks are expected to make the jump to Intel's Sandy Bridge architecture and could also include subtle changes to the chassis design. According to one recent report, Apple may even roll out Intel's new high-speed optical connector technology, dubbed Light Peak, with the new MacBook Pros.