Vodafone suggests Apple's iPhone 5 will come in 16GB, 32GB capacities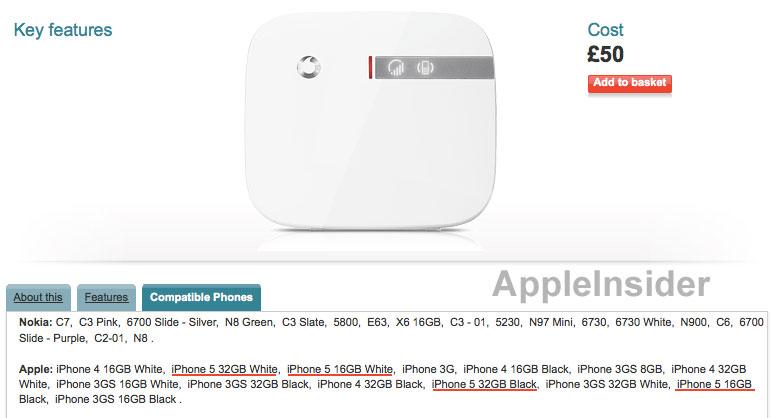 AppleInsider may earn an affiliate commission on purchases made through links on our site.
A product listing on the website for U.K. carrier Vodafone has implied that Apple's next-generation iPhone will be offered in black and white, and available in the same two capacities it has been for years: 16 and 32 gigabytes.
The product page for the Vodafone Sure Signal, which works as a signal booster for the carrier's network, offers a list of phones compatible with the device. The carrier's site makes mention of four "iPhone 5" models, with capacities of 16GB and 32GB and colors of black and white.
Of course, it's possible that the listing is a typo, or even presumptive. But it does mention in addition the iPhone 4, iPhone 3GS and even the iPhone 3G first released in 2008.
If accurate, the mention of a next-generation iPhone would mean that Apple's handset would not gain a 64GB capacity model. Both the iPod touch and iPad have high-end models with 64GB of flash storage available, while the iPhone currently tops off at 32GB.
The page would also suggest that Apple will offer a white variant of its iPhone 5 at launch. Apple had troubles with paint mixtures in assembling its white iPhone 4, and was pushed back 10 months from its originally scheduled June 2010 debut.
While the capacities and colors listed by Vodafone would be identical to the currently available iPhone 4, Apple's next-generation handset is expected to have an 8-megapixel camera for higher resolution photos. The device is also likely to sport the same custom-built A5 processor found in the iPad 2.
Apple is widely expected to have a press event in the coming weeks to publicly unveil its next-generation iPhone. Numerous rumors have suggested the fifth-generation iPhone will go on sale in October.