Apple to surprise with late-2011 MacBook Pro refresh this month

Exclusive: With Intel's next-generation Core i-Series mobile platform not expected until the second quarter of 2012, Apple is reportedly preparing a refresh of its professional notebook line ahead of the holiday shopping season to better bridge the gap, AppleInsider has been told.
According to people with proven insight into Apple's future product plans, the late-2011 MacBook Pro refresh will deliver marginal speed bumps to the notebooks' Core i-Series of Sandy Bridge processors but will otherwise introduce no material changes over the existing models.Â
While precise timing for the update may change, those same people say the Mac maker currently anticipates an introduction of the refreshed line before the end of the month, possibly following the close of the company's Back-to-School promotion, which ends on September 20th.
Word of the new models comes just one week after Intel quietly refreshed its Sandy Bridge lineup of processors, adding four new Core i7 chips suited for adoption by the MacBook Pro in addition to slashing prices on some other chips, while phasing out a handful of others.
In particular, the chipmaker introduced new 2.4GHz, 2.5GHz and 2.7GHz quad-core Core i7 processors that could replace the 2.0GHz, 2.2GHz and 2.3GHz versions offered in the current 15- and 17-inch MacBook Pros, in addition to a 2.8GHz dual-core Core i7 that could serve as an upgrade path for the current 2.7GHz 13-inch MacBook Pro.
Intel introduced 4 new Core i7 mobile chips this month.
As for the entry-level 13-inch MacBook Pro, Intel continues to list a couple of Core i5 chips at speeds of 2.5GHz to 2.6GHz that Apple could elect to use to bump 2.3GHz Core i5 MacBook Pro for little to no cost increase. Â
In addition to these chips, which are listed on Intel's latest price sheet [PDF] dated September 4th, Apple may have discounted access to handful of older Core i5 and Core i7 chips that were introduced early this year, such as the 2.1GHz and 2.3GHz quad-core Core i7 models.
Although the new models may come as somewhat of a surprise for industry watchers given that there has been no indication that Apple is drawing down inventories of existing models, the refresh is likely geared towards assuring the Mac maker's top-selling notebook family remains competitive in the market until Intel releases its next-generation Ivy Bridge platform at some point in 2012.
Ivy Bridge was originally slated to debut in late 2011, but leaked documents from Intel surfaced in May and revealed that the next-generation processors are slated to arrive at some point in the first half of 2012. The Ivy Bridge chips are now scheduled to become available at some point in March or April of next year.
This week, Intel began to share details on its 2012 Ivy Bridge lineup, promising up to 60 percent faster performance with its integrated graphics. All mobile versions of the chips bound for Apple's next MacBook Pros will sport Intel's GT2 GPUs, known as HD Graphics 3000.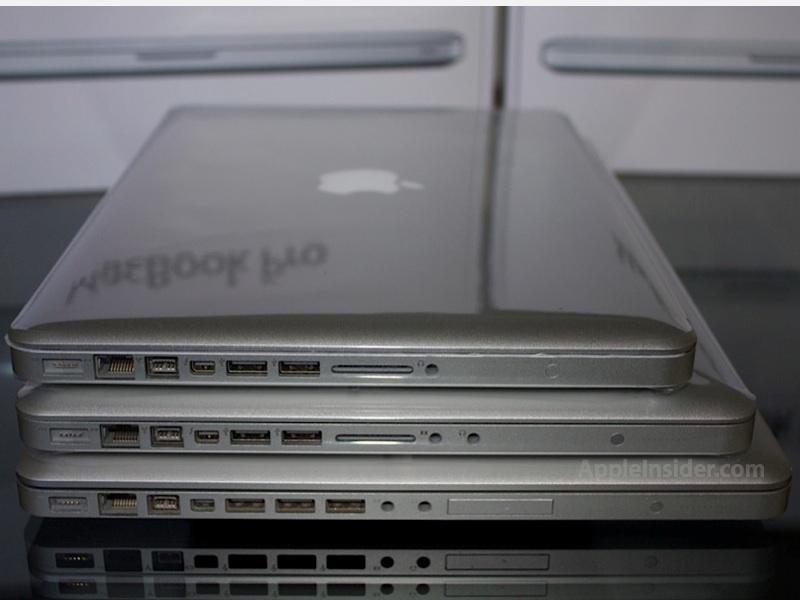 The MacBook Pro remains the bread and butter of Apple's mostly mobile Mac business, even as the newer, thin-and-light MacBook Air gains in sales. Apple's MacBook Pros are the only notebooks offered by the company that still offer discrete graphics, making them the only option for video professionals and power users on the go.
In addition, the MacBook Pro remains the only Apple notebook with screen sizes larger than 13-inches. While the MacBook Air (and now defunct white MacBook) max out at 13-inches, the MacBook Pro still comes in 15- and 17-inch screen sizes, with faster CPUs and graphics to accompany the greater screen real estate.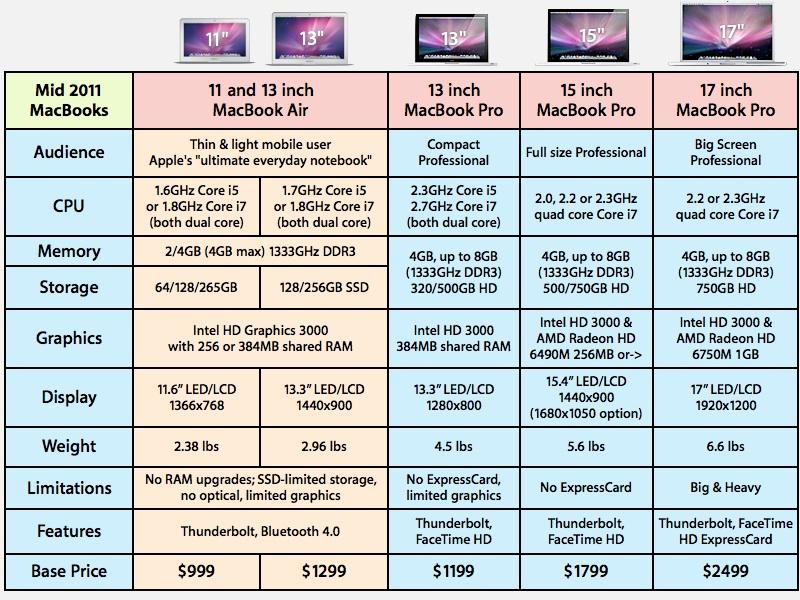 Apple last updated its MacBook Pro lineup in February, giving its entry-level 13-inch models dual-core Sandy Bridge Core i5 and i7 chips at speeds of 2.3GHz and 2.7Ghz. The higher-end 15- and 17-inch models gained quad-core Sandy Bridge Core i7 chips at speeds of up to 2.3Ghz.
The new notebooks, which are depicted in the chart above, were also upgraded to add Apple's new high-speed Thunderbolt data and video port. All of the early 2011 MacBook Pros sport discrete AMD graphics processors.