AppleCare preparations hint at iOS 5.0 release around Oct. 10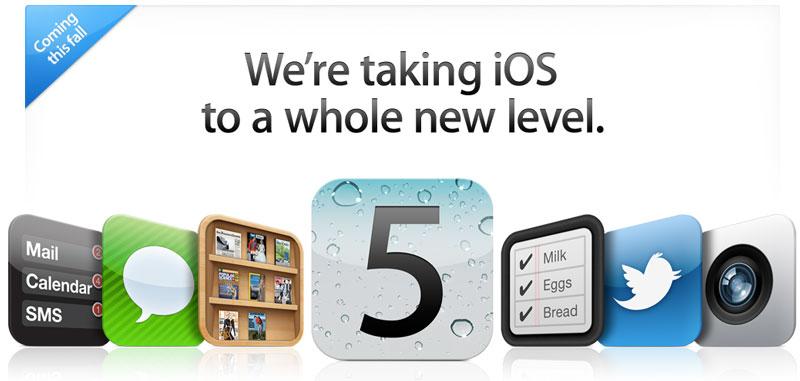 Apple has reportedly informed its AppleCare division to expect an influx of iOS-related inquiries from customers beginning Monday, Oct. 10, perhaps signaling when the company plans to release iOS 5 to existing device owners.
For instance, one person familiar with the matter said his local AppleCare call center has been told to expect an eightfold increase in customer calls on that day, and that staff are being advised ahead of time for the increased traffic.
The person could not say with any certainty what will be released on that Monday, but noted that the increase in call volume is related to iOS. This led them to speculate that Apple could release iOS 5 and iCloud on Oct. 10.
While AppleInsider cannot verify the accuracy of the information provided, the tip did include specific details on call volumes that suggest the details are at least plausible. However, since the details come from an unproven source, the information is presented solely in the interest of discussion.
It's unlikely that the Oct. 10 date would coincide with the release of a new iPhone, as Apple has typically issued hardware updates later in the week. Releasing a major update to iOS a few days before a new iPhone arrives would not be new, however.
In 2009, Apple publicly released version 3.0 of what was then known as "iPhone Software" on Wednesday, June 17 — two days before the iPhone 3GS went on sale. And last year, iOS 4 became available on Monday, June 21, before the Thursday launch of the iPhone 4.
The information also aligns with a comment made this week by the CEO of French wireless carrier in an interview with BFM TV. According to iPhon.fr (via Google Translate), Stephane Richard suggested Apple's next iPhone will be released on Oct. 15, which would be a Saturday.
"If I believe what we heard, the iPhone 5 will be released Oct. 15," Richard reportedly said.
On Monday, AppleInsider was first to report that Apple is expected to release the golden master build of iOS 5 to its overseas handset assemblers the week of Sept. 23, allowing the software to be installed on fifth-generation iPhone hardware. Typically a software golden master is identical to the code that eventually becomes the final public release.
Buzz continues to build as Apple is expected to hold a media event in the coming weeks to officially unveil its next-generation iPhone. Numerous reports have pointed toward a mid-October launch of the hardware refresh.
While the next iPhone remains just a rumor until it is officially announced, developers have been beta testing iOS 5 for months. Apple has said that the free update will be available to iPhone, iPad and iPod touch users this fall.