Microsoft unveils Windows 8 tablet effort with Samsung prototype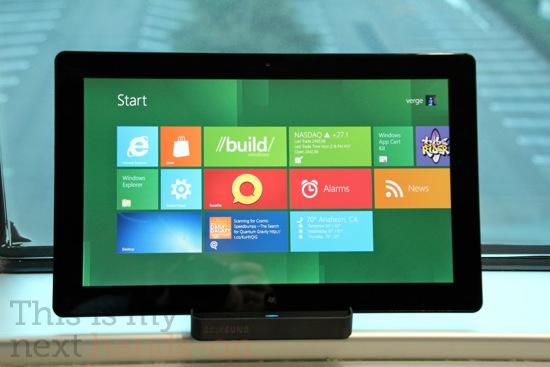 Microsoft offered an extended preview of its upcoming Windows 8 operating system at a conference on Tuesday, providing developers with a prototype Samsung tablet running a "pre-beta" version of the OS.
The Redmond, Wash., software giant's announcements at the Build conference in Anaheim, Calif., caused a stir, with some pundits prematurely heralding the downfall of Apple's iPad. Microsoft indicated that it will remain committed to its "no compromise" strategy of bringing a full-featured Windows operating system to the tablet form factor.
"We re-imagined Windows," Microsoft's Windows division president Steven Sinofsky said. "From the chipset to the user experience, Windows 8 brings a new range of capabilities without compromise."
In an effort to foster early development for the platform, which is set to arrive next year, Microsoft gave each of the 5,000 attendees a prototype tablet, dubbed Windows 8 Developer Preview, that it had co-developed with Samsung. The Intel i5-based tablet came packed with Internet Explorer 10 and a host of apps developed by Microsoft interns.
The device is a re-tooled version of Samsung's Series 7 tablet, featuring a 1.6GHz processor, 11.6-inch screen, front and rear cameras, and HDMI port, USB port, microSD slot and a SIM-card slot. The companies also included a charging dock with USB, HDMI and Ethernet ports, a Bluetooth keyboard and a stylus pen. AT&T partnered up to offer a year of 3G service for the devices to Build attendees, though the free plan is capped at 2GB of data per month.
The company reminded developers that the Developer Preview, which has been called "pre-beta," is still a work in progress. "This is a pre-release product," the Associated Foreign Press reported Sinofsky as saying. "You saw some little snafus today; there are going to be more of them."
As demonstrated at the conference, Windows 8 draws from Microsoft's Windows Phone 7 unique tile interact for its Metro touch layer. "Icons are yesterday's way of representing apps, tiles are today's way of representing apps," said Microsoft manager Jensen Harris.
The Windows 8 prototype tablet has drawn immediate criticism for the inclusion of a cooling fan. "Fan noise is very noticeable, as is the heat coming out of the top vent," noted This is my next's Joanna Stern.
She also took issue with switching between the Metro and Desktop interfaces. "The whole user experience feels schizophrenic, with users having to jump back and forth between the two paradigms, each of which seem like they might be better off on their own," she wrote.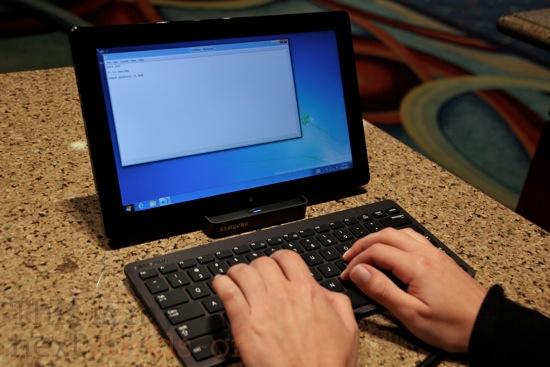 Stern also expressed disappointment that Microsoft had downplayed ARM architecture support during its presentation, favoring instead the x86 architecture. "A fast boot doesn't excuse the slow wake-up times compared to ARM-based cellphones and tablets," she said, adding that ARM received only a "token gesture" during a demo session.
For its part, Intel has struggled to build mobile processors capable of running in the low energy, low heat capacity needed for tablets. Interestingly enough, Google announced on Tuesday a partnership with Intel to bring its Android mobile operating system to the chipmaker's Atom processors. Apple had originally been rumored to be considering Atom chips for the iPad and iPhone, but the company eventually settled on a custom ARM-based solution.
Microsoft on Tuesday also further confirmed its plans for a Windows application store, similar to Apple's own App Store. ARM-based Windows 8 applications will only be available through the "Windows Store," which will also have the requirement that all submitted apps support the Metro interface.
An early build of Windows 8 had hinted that Microsoft was planning to make the software scalable across a variety of form factors. In June, the company offered a preview of the operating system, highlighting HTML5 and Javascript apps that will take advantage of the touch interface.