Gartner projects Apple's iPad to maintain 50% market share through 2014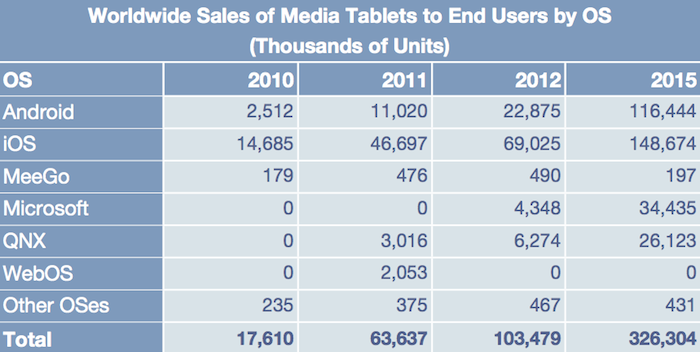 AppleInsider may earn an affiliate commission on purchases made through links on our site.
Apple's iPad will continue to dominate the tablet market, maintaining more than 50 percent market share through 2014, according to a new analysis.
Research group Gartner issued a special report on Thursday, noting that Apple will have a "free run" in the tablet market this holiday season as rivals continue to lag. The group sees worldwide media tablet sales as on track to reach 63.6 million units this year, a 261.4 percent increase from 2010.
Gartner predicts Apple will hold on to a dominant 73.4 percent of the market this year, though down from 83 percent in 2010. Android is expected to remain in second place, with the firm assuming that no other platforms will manage a 5 percent share of the market in 2011.
Apple's head start on tablets will provide it with a comfortable lead for at least several more years, according to Gartner. By the end of 2015, the company's tablet share is expected to slide to 46 percent.
"We expect Apple to maintain a market share lead throughout our forecast period by commanding more than 50 percent of the market until 2014," said Carolina Milanesi, research vice president at Gartner. "This is because Apple delivers a superior and unified user experience across its hardware, software and services. Unless competitors can respond with a similar approach, challenges to Apple's position will be minimal.
"Apple had the foresight to create this market and in doing that planned for it as far as component supplies such as memory and screen. This allowed Apple to bring the iPad out at a very competitive price and no compromise in experience among the different models that offer storage and connectivity options."
Gartner believes Android tablets will reach 11 million in sales this year, enough for a 17.3 percent share of sales. According to the firm's projections, Android will approach Apple with 116 million tablet sales, enough for 35.6 percent market share.
"So far, Android's appeal in the tablet market has been constrained by high prices, weak user interface and limited tablet applications," Milanesi said. "Google will address the fragmentation of Android across smartphone and tablet form factors within the next Android release, known as 'Ice Cream Sandwich,' which we expect to see in the fourth quarter of 2011. Android can count on strong support from key OEMs, has a sizeable developer community, and its smartphones application ecosystem is second only to Apple's."
Research in Motion's QNX platform is projected to sell 3 million tablets. Gartner analysts noted QNX as having promise, while pointing out that it's still in the "early stages of development." A recent report claimed Quanta, the manufacturer contracted by RIM to produce its PlayBook tablet, has let 1,000 workers go from production lines for the device after RIM posted shipments of just 200,000 tablets last quarter. The BlackBerry maker had reportedly expected to produce 800,000 PlayBooks per month in the second half of 2011.
HP's WebOS is expected by Gartner to achieve 2 million in sales from its inventory clearance this year, but the figures will register as only a blip, since the product has been discontinued. The world's largest PC maker changed leadership on Thursday after investors lost confidence in the company's plan to spin off its PC business, abandon WebOS development and shift toward software services.
Gartner also made note of "current buzz" around upcoming Windows 8 tablets, but expressed concerns that customers would lose interest if Microsoft's "no-compromise" strategy for Windows ends up actually compromising usability. Also, tablet devices running Microsoft's platform will be late arrivals and could have a hard time gaining traction as Apple and Android will be "more entrenched by then." Microsoft is expected to hold just 10.5 percent tablet market share in 2015.
In April, Gartner issued projections for the tablet market, but the industry has seen substantial change since then. The group had to remove future sales of WebOS tablets, revise projected sales of Android, QNX and MeeGo downward and add estimates for Microsoft.
Earlier this week, it was reported that, during a presentation, Gartner had described Apple's iPad as an "unstoppable train" in the enterprise. Apple is expected to especially benefit from a new trend among business of "bring your own devices" policies.