Goldman Sachs bullish on Apple, raises iPad, Mac, iPhone estimates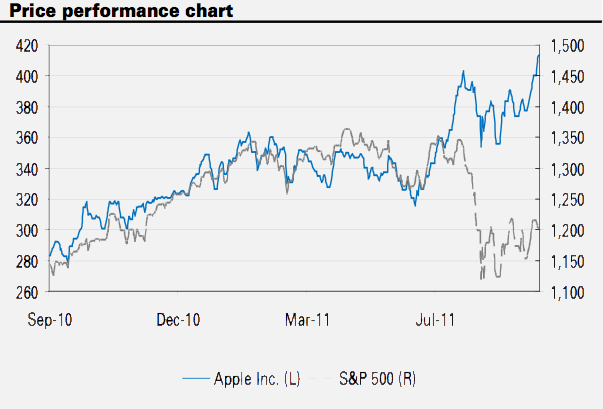 AppleInsider is supported by its audience and may earn commission as an Amazon Associate and affiliate partner on qualifying purchases. These affiliate partnerships do not influence our editorial content.
Investment bank Goldman Sachs sees Apple outperforming the firm's previous expectations in spite of recent market troubles and has raised its shipping estimates for the iPad, Mac and iPhone.
Analyst Bill Shope issued a note to investors earlier this week lifting the firm's 12-month target price from $480 to $520, citing "increasing competitive momentum and compelling new products" from the company. He specifically mentioned upcoming iPhone, iOS 5, iPod and iCloud products set to arrive this fall, as well as the iPad 3, which he expects in early 2012.
The analyst did warn that worsening macroeconomic conditions could pose a risk for the company, but he noted that Apple has so far been impressively resistant to external macroeconomic pressures.
"We believe recent macroeconomic uncertainty has had surprisingly little impact on Apple's revenue and profit momentum. Indeed, we believe iPads, Macs, and iPhones could sharply exceed our prior expectations," he said.
Goldman Sachs raised its estimates for Apple's September quarter performance to $28.71 billion in revenue and $7.30 earnings per share, up from $27.37 billion and $6.49 previously. For calendar 2011, the firm sees revenues reaching $118.48 billion and $30.53 EPS, compared to its prior forecast of $115.74 billion and $29.34.
Looking ahead to calendar 2012, revenues are expected to soar to $138.62 billion with $34.62 EPS, up from previous estimates of $131.07 billion and $32.56.
Shope views competitors to the iPad as remaining "ineffective," even as momentum has accelerated for Apple's touchscreen tablet. He raised his iPad estimate for the September quarter from 12.70 million units to 13.05 million, also raising his calendar 2011 estimate by 350,000 units to 42.39 million.
"In particular, with the high-profile shutdown of HP's TouchPad effort, the inability of most Android vendors to offer competitive price points, and increasingly aggressive patent actions against Samsung, we believe retailers and consumers have only increased their allegiance to the iPad," he wrote.
The analyst cautioned that iPhone shipments may decline sequentially this quarter as Apple draws down the iPhone 4 in preparation for its next-generation handset. Apple itself revealed that it has guided for a sequential revenue decline this quarter due to a "future product transition," presumably related to the iPhone.
But, he sees iPhone sales picking up in the fourth quarter of calendar 2011, raising his estimate to 26.79 million units, up from 26.33 million previously. The firm now believes Apple will ship 114.47 million iPhones in calendar 2012, as opposed to its earlier estimate of 109.08 million.
As for Apple's Mac lineup, Shope sees the company's momentum remaining "surprisingly healthy" in the face of "tepid" PC demand. He called out the MacBook Air as having created a new category within the PC sector that is more resilient to tablet cannibalization than other portables.
Though Intel is pushing its ultrabook category as a counter to the MacBook Air, Shope believes the learning curve "may be steeper" than it or its partners realize. As such, he has raised his Mac shipment forecast from 4.12 million to 4.40 million units. Projecting 13.9 percent growth for Mac shipments, the analyst expects Apple to record 16.36 million units in 2011 and 18.64 million in 2012.
Shope concluded his note by addressing "the top five bear arguments" against Apple. He countered the assertion that the company has hit a growth ceiling with the iPhone by pointing to its 15 percent market share for smartphones outside of the U.S. Also, though some believe the rumored Amazon tablet will disrupt Apple's ecosystem, Shope does not see it as a near-term threat to iPad momentum.
The analyst also dismissed claims that Apple will struggle now that Steve Jobs has stepped down as CEO. "Apple does not need to reinvent the platform; it just needs to continue executing solidly and managing the platform, which we believe Mr. Cook and the current bench of executives will be more than capable of doing," he wrote.
As for the argument that Apple's gross margins will inevitably decline, Shope posited that Apple's robust content and application ecosystems and its loyal and active installed base will allow the company to preserve its margins and protect it from commoditization.
Lastly, Shope criticized the belief that Apple stock will cease growing because the company has surpassed Exxon to become the largest company in the world in terms of market capitalization. He cited the iPhone maker's low P/E multiple and sustained earnings growth as evidence that investors will continue to trust Apple.