Comcast to offer AnyPlay live TV streaming service on Apple's iPad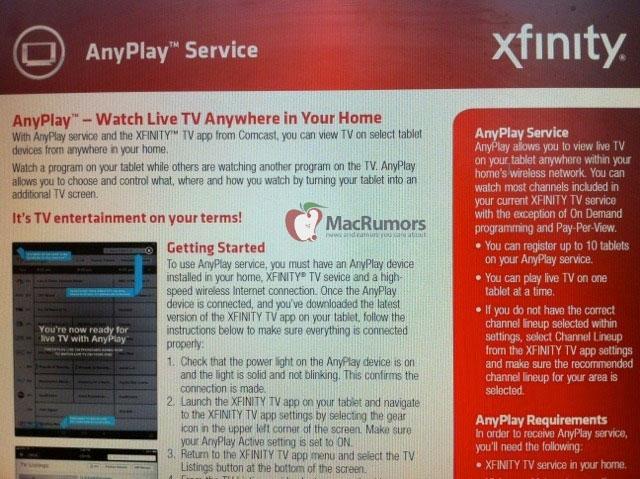 Comcast, the largest cable provider in the U.S., is said to be working on a new live television streaming service called AnyPlay, which will let iPad users stream live TV to its existing Xfinity TV iOS application.
According to a leaked screenshot obtained by MacRumors, the upcoming AnyPlay feature will let Comcast subscribers watch most channels included in their Xfinity TV service on the iPad, except for On Demand and Pay-Per-View programs.
AnyPlay will be limited to in-home use, as the service requires iPad owners to be in the proximity of a Motorola-made cable box. That hardware will allegedly send the live cable stream to the Xfinity TV iPad.
In addition to the AnyPlay box, users will also require an active Xfinity TV subscription and a high-speed wireless Internet connection to be able to watch live TV on the tablet.
The service will not work over other any other Wi-Fi or 3G network and will be limited to up to 10 registered tablets per home. Only one device can be used at a time to stream live TV programs.
The Xfinity TV iOS application, available in the App Store as a free download (iTunes link) for iPhone, iPod touch and iPad, currently lets users access On Demand programs, browse through TV listings and control TVs and DVRs.
AnyPlay streaming would be accessed from inside the app in the future, although Comcast has not specified any details about the launch and availability of the new streaming service.
Competing companies like Cablevision and Time Warner have similar TV streaming applications — Optimum for iPad and TWCable TV, respectively (iTunes links) — which are already available in the App Store. Earlier this year, Time Warner pulled major networks including MTV and FX from its application to placate broadcasters.