Apple removes click-wheel games from iTunes as iPod classic lives its last days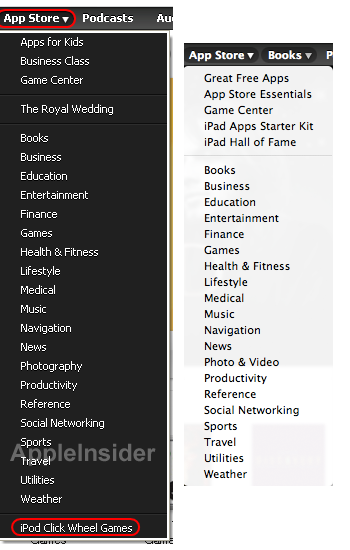 As Apple is rumored to discontinue its aging hard-drive-based iPod classic, the company has removed a section from the iTunes Store devoted to click-wheel games.
Users used to be able to access a link to "iPod Click Wheel Games" by clicking the drop-down menu on the App Store link in iTunes. But now, that option has disappeared from the menu.
The removal comes as Apple is rumored to be planning to discontinue the iPod classic this year after the device's form factor had a 10-year run. The classic is Apple's legacy iPod, sporting the same click wheel and general design as the first iPod released in 2001.
Games on the iPod date back to Apple's very first model, with the game "Brick," originally invented by Apple co-founder Steve Wozniak, included as a hidden easter egg. As the iPod grew in functionality and gained a color display, more titles were added, and the latest iPod classic comes with "Vortex," "iQuiz" and "Klondike."
Apple began selling games for the iPod classic in 2006 in a sort of precursor to the iPhone and iPod touch App Store that would eventually launch two years later. Apple released its own click-wheel games like "Texas Hold'Em" and "Reversi," while major publishers including Electronic Arts, Square Enix and Disney also released titles.
Titles were priced at $7.49, and they rely on the touch-sensitive wheel that receives input on the iPod classic, as well as older versions of the iPod nano and iPod mini. In all, there were around 50 downloadable games available for purchase through iTunes, limited by the fact that Apple did not make a third-party iPod classic software development kit publicly available.
It's possible the iPod classic could get the ax at next week's iPhone centric media event, scheduled for 10 a.m. Pacific on Tuesday. As the iPod lineup has become a less important part of Apple's business, the portable media players have taken a backseat to devices like the iPhone and iPad.
In July, AppleInsider first reported that Apple's flagship iPod, the iPod touch, will receive few changes in this year's refresh. The new iPod touch is expected to be offered in white, but will feature largely the same internal hardware as the model released in 2010.