AT&T already stocking iPhone 5 silicone sleeves in stores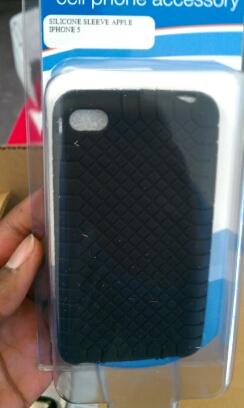 On the heels of a leak showing iPhone 5 cases entered into the carrier's inventory system, more evidence has emerged that AT&T has begun stocking third-party iPhone 5 cases days before Apple is expected to unveil its next handset.
An alleged store employee at an AT&T retail store sent to MacRumors photos of newly arrived silicone sleeves for the as-yet-unannounced "iPhone 5." The product appears to be a low-end generic case, as it carries no distinguishable brand, is simply labelled "cell phone accessory" and comes in oversized packaging.
The sleeve features a tapered design with the mute switch on the right side of the device, resembling purported iPhone 5 cases that have proliferated in China for months.
However, the publication took care to note that the cases run against the "growing feeling that Apple may not be releasing such a device" because of recent evidence suggesting that Apple's design for its next iPhone may be "nearly identical to the iPhone 4."
Earlier on Thursday, a leaked photo allegedly of AT&T's inventory system surfaced, showing entries for iPhone 5 hard case, soft case and skin products from Case-Mate. The case maker had previously posted its case designs on its website, but took them down shortly after they went up.
Anticipation for the next-generation iPhone reached a fever pitch after Apple sent out invitations to an event next Tuesday, Oct. 4, with the tagline "Let's talk iPhone." The tagline has prompted renewed speculation that Apple will include voice recognition features on its fifth-generation smartphone. The next iPhone is widely believed to feature the A5 processor found in the iPad 2 and an 8-megapixel camera.
There has been some disagreement, however, about whether Apple will introduce a redesigned iPhone 4 in addition to a new model. It had been suggested that Apple was looking to release a cheaper iPhone 4S alongside the iPhone 5, but recent reports have poured cold water on the rumor.